ANASTACIA BETH SCOTT
Grains of Sand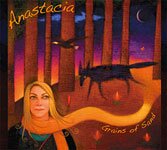 The hardest part of playing a festival has to be preceding or following the other acts. found this out this past September at the Sisters Folk Festival when she took the stage from Danny Schmidt, the Austin/Charlottesville folk/guitar artist fast becoming known beyond the borders of those towns. On the tent-covered deck outside of Bronco Billy's, Schmidt played a fast moving set in intense heat, giving a full house an exhaustive 45 minutes' worth before exiting, stage left. Scott, busy preparing for her first real trial as a solo performer, had to have been a bit daunted by Schmidt's professionalism. She was nervous enough, probably, just playing it in front of a home town crowd, but following Schmidt? That is pressure.
She brought with her a lap guitarist named Mai, who hones his chops playing with the Moon Mountain Ramblers. Unfortunately for me, Mai's chops fell just short of causing brain damage, but that was a matter of seating more than anything (I was directly in front of the PA speakers on the left side of the stage). I would have moved, but the support of the hometown crowd made it standing room only and even the waiters struggled to get tankards of ale and plates of food to the patrons. I was stuck, so to speak, but I have to give Scott credit. She made the pain worth it.
Her voice was strong but controlled, her presence (in spite of slight anxiety) commanding and her songs well presented. Which is one reason I was surprised when I later received her album. The Sisters show was two guitars and voice. Grains of Sand is full band--- guitar, keyboards, bass and drums. Hearing the album is like listening to Scott's twin sister--- still pleasant to watch and to hear but more rockin'.
Well, rockin' might not be the term, but rock, it is. True, Burn the Bridge has a slow-edged bluesy feel and one could almost sense that she could pull off a Lydia Pense (Cold Blood) intensity, but that is just not Scott's style. She is about the phrasing and not so much the intensity, fitting perfectly within the framework of the songs she provides us with: the jazzy folk of Floating, the ska groove of Back Streets, the folk and country-rock sensitivity of We're All In This Together, and the laid back rock of Behind Dry Eyes.
Grains of Sand is fitting as the title track, being the most commercial of the lot and utilizing the organ to full effect, but the real grabber is Always My Baby, a folk-infused ballad of eerie beauty. Scott's voice, soft and wavering over acoustic folk guitar, bass worthy of Fairport Convention at its best and Wurlitzer-sounding keyboard, is a step-without-footprint, it is so well presented. And the song? On a level of its own. Speaking of Fairport, this might easily have fit within the constructs of their great early albums.
While the album is not perfect (none really is, especially if you listen to the artists themselves), it is a good solid effort and deserving of more than a listen. The three short "jams" (short interludes between songs) are very well placed and make the music flow that much better and she throws in a music video of Grains of Sand as a bonus, though I am so computer-illiterate, I have not yet been able to watch. I have seen it, a few times in fact, as it is viewable on her MySpace page, and it is worth a step in that direction. Better yet, just click on this:
Anastacia Beth Scott "Grains of Sand" from FARfromEARTH Films on Vimeo.
Sisters, Oregon is not exactly the center of the music industry and Scott is working on expanding her base, having made inroads into Texas. The rest of the states won't be too far behind if she has the strength, and she is much younger than myself so that is very probable. You might want to bookmark her name--- Anastacia Beth Scott, though she has been performing under the single name of Anastacia. She is worth seeing, worth hearing and has tremendous growth potential, musically. Catch her now and watch her progress.
Frank O. Gutch Jr.