THE STORY OF CARGOE
Beautiful Sounds and Memphis Blues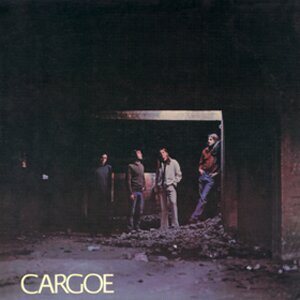 Since the demise (and occasional recurrence) of power pop legend Big Star, pages have been written about the band and its now revered label, Ardent Records. At least two books have been published on the Memphis rock music scene at the time and a major historical work on Big Star by one Rob Jovanovich has hit the shelves. Add to these the constant tremors of Big Star reunions built around the Biggest Star, Alex Chilton, plus the core of The Posies and you have the after effect of a volcano which never really occurred.
In spite of intense investigative efforts by the media and loyal fans, questions about the failure of Ardent Records in general and Big Star in particular have only been partially answered. Perhaps a look elsewhere can shed some much needed light on the subject -- a look at Ardent's best chance for success: Cargoe. They were, after all, the first group to release a record on the revived label, the only one to chart, and the only real chance Ardent had to market a radio hit. Yet musicologists and critics alike gave and give them short shrift. Ignored and brushed aside, Cargoe has been mere afterthought in today's Big Star-obsessed media world. A peek under the media shroud may enlighten us all.
CHAPTER ONE: LIVING ON TULSA TIME
"I have always believed that the Cargoe story was a huge tragedy and missed opportunity. Chalk it up to inexperience and delusions of grandeur. It was still the sixties, and we did not have a full understanding of how to handle magic and we certainly did not know how to build a musical career."
-- Robert W. Walker, DJ, KAKC (The Big 97), Tulsa, 1965-68
In the beginning, there was Tulsa, Oklahoma, in the fifties and sixties a town struggling to be a large city. Not exactly a regional center of commerce, business was good enough to provide a living for most. After all, it was big enough to support a university, a solid minor league baseball franchise and a number of radio and TV stations. Like the Kitty Hawk at sea, it could survive on its own for a length of time if need be before sending for help.
Traditionally a music town, it sported Cain's Ballroom, a major venue built in the twenties and a regular stop for many big bands and major country and western acts, the most notable being Hank Williams and Bob Wills, who stopped by regularly with The Light Crust Doughboys and later with The Texas Playboys. Night clubs dotted Tulsa and the surrounding countryside, and word has it that on some nights, the whole area was lit up and cloaked in music.
When the sixties rolled around, the music kept going. Leon Russell was an early Tulsa export, finding his way into various studios to work with major recording artists before making a name for himself as a writer and solo act. And there were others. A group of musicians calling themselves Tulsa County sported Dick Sims on organ and Jamie Oldaker on drums. "Jim Sweney was their lead singer," remembers Max Wisley, bass guitarist for Cargoe, "and he still plays around Tulsa. And Jim Byfield was their guitarist. They were very good, played in a sort of Young Rascals' mode." Sims and Oldaker went on to tour and record with Eric Clapton in later years.
Jim Peters, one of the top jocks at radio station KAKC in the late sixties, agreed. "There was music and musicians everywhere," he said, "and out of this huge -- movement, really -- emerged Cargoe and some single musicians like Oldaker and Sims and Carl Radle and David Teagarden -- people who went on to play with big name stars. All of them made it except for Cargoe."
Cargoe, of course, was not always Cargoe. As with all musicians, each member had his roots. Max Wisley started early, learning to play the pedal steel at the tender age of seven. When he was eleven, he teamed up with good friend and guitarist Dick Gordon, Jr. to play in a duo similar to The Everly Brothers. A few years later, they added Bill Phillips on keyboards and a drummer named Wayne Evans to form a group they named What For?.
To give an idea of what it was like to be a rocker in Tulsa in those days, Wisely told of the time that Phillips came to visit him out in Inola, where Wisley lived. Phillips's hair was a little over the collar, so the school sent him home. "Of course, I went too," laughed Wisely, pretending it was a sacrifice.
"Bill played the bass console on his Farfisa organ," according to Wisley. "He had this cool red Farfisa, I was playing my dad's ES-135, and Dick, Jr. by then was playing lead on a Fender Jaguar."
The band's first big moment came at Tulsa's State Fair where they won a Battle of the Bands competition and an offer to play on a local morning TV program. Things were looking up, but they felt like they needed something. That something came in the form of a vocalist, Ann Bishop.
"Bill's sister, Cindy," Wisley explained, "knew this girl who knew a girl who could sing. At that time, there were very few girl rock singers like Grace Slick of Jefferson Airplane, so we asked Ann to come over and we worked up a couple of Airplane songs." She had come along just in time. Skilly Foresman, owner of Skilly's Dance Studio, had decided to open a new teen club. In the late fifties and early sixties, young Tulsans were encouraged to attend classes at the dance studio, where they could learn not just how to dance, according to Peters, but "also how to behave with the opposite sex and so on." Having tapped into young Tulsa, Foresman saw an opportunity to mine the youth. In this case, a rock mine. She named it The Machine.
Foresman had done her homework. Knowing she needed an 'in' to the music world, she tracked down and hired Peters, KAKC's self-proclaimed "Leader of the Now Children," as promoter and part-time booking agent. Of course, working at KAKC and with The Machine was a dream combination for Peters. "I could do anything I wanted," he said, referring to his ability to span the club work, radio and promotion. "I could bring bands in, advertise them on the radio, throw my own shows. It was pretty cool. Of course, I didn't actually sign the contracts for The Machine, but if I was interested in a band, I would send them over and they would get a shot."
What For?, with new vocalist Ann Bishop, somehow wangled an audition. Wisley remembered walking into the club that first time. "We go into The Machine," he said, "and the walls were all black, with posters and black lights, and the ceiling was rafters. There were two stages kind of arched in a semi-circle on the left and right with dressing rooms behind each so the band wouldn't have to go through the crowd to reach the stage. I mean, black lights and an oil and water New York-type light show. So we go into audition and we tear into Somebody To Love and everybody's jaw dropped. It was like, where did these guys come from? We were playing and the light show was flashing. It was something. When we finished, Peters came up to us and said, 'Who are you guys.' That pretty much started our relationship with him. Of course, we were hired on the spot."
"When I hired those guys," Peters said, "they either didn't have a name or maybe they had one Skilly didn't like." Instead of heading home to hash out a name change, the band headed for Foresman's office, where a solution awaited them
"This guy back in New York who was advising Skilly came up with the name," Wisley remembered. He had written down a whole list of names, all possible names for the club." The Machine was taken, of course, as was Steamer's Trunk, a name handed to the other house band. What For? quickly scanned what remained and walked out of the office Rubbery Cargoe.
Life was good at The Machine. In addition to the two house bands, guest bands were sometimes scheduled. Local bands and national acts like The Grass Roots played there.
Bill Phillips remembered one local act especially. "[Actor] Gary Busey's this Tulsa guy and he had a band called The Rubber Band. He sang all of the songs. He was a drummer and was kind of unusual in that he set up his drums in front of the band instead of behind it."
On some nights, Steamer's Trunk lit up the place. They were an R&B outfit along the lines of a soulful Blood Sweat and Tears, fronted by an impressive young vocalist named James Mobley. Peters remembered them fondly, noting that he would give anything to hear him sing again.
On other nights, it was Rubbery Cargoe's turn. "We were the psychedelic house band," Wisley said. "We wore Nehru jackets and our posters had the Jefferson Airplane feel and flower power look."
The club went so far as to send the band to a photo studio to have shots taken of them, complete with fake moustaches. It was supposed to be like they were straight out of San Francisco.
During the early days at the club, a decision was made to cut a single. The band and Peters headed to Oklahoma City to a small recording studio, laid down some cash and two tracks and had a 45 pressed. Over the years, both copies and memories disappeared and no one has been able to provide a copy or even information beyond the basics. Phillips brushed off the lack of memory, saying "That was over 30 years ago, man." Still, you got the feeling that maybe he would like to have a copy, if just for old time's sake.
Not long after, Bishop left the band. "It was all about being really young and running on egos at the time," Phillips explained. "There came a point during one performance at The Machine when Ann kind of turned her nose up and said, you know, I don't think you guys would even be here if it wasn't for me. And I, being the way I was, said well, why don't you just go home and we'll try it the rest of the night and see what happens. And she went on to do her thing and we went on to do our thing. During that time, she and Dick Gordon had formed a pretty strong alliance. So, Ann's gone now and we're a four-piece guy group again and the next thing you know, Dick's gone too, so we're looking for a guitar player."
As luck would have it, the last link in the Tulsa part of the Cargoe story happened into The Machine not long after: The Dirty Blues Band. Two of the guys, drummer Tim Benton and guitarist Tommy Richard, had been playing together for years. "Around '65," said Benton, we played in a trio with another guitarist, mainly because he owned a microphone. Then, sometime in '66, we joined a larger group with organ, bass and an additional guitar. By 1967, we had formed The Dirty Blues Band and were playing a lot of blues, soul and a little Hendrix type stuff."
Rubbery Cargoe was impressed. During The Dirty Blues Band's finale, what remained of Rubbery Cargoe went on stage and joined in. Shortly thereafter, they asked Richard to be their guitarist. He thought about it for a couple of days and finally said he would. "Tommy was thrilled to be invited to join the band," Peters said. But because RC already had a drummer, Tim Benton was out. Crushed, Benton took his drum set home and locked himself in his bedroom and consoled himself by playing along with his records. Tommy Richard, though, had a plan.
"Tom did not like Wayne, our drummer," said Phillips, "and, in a nutshell, pestered Wayne kind of like little kid's stuff, you know? Wayne was an old friend and we couldn't just turn him loose. So Tom just pestered him until Wayne finally said, well, I think I'll move on. And of course, Tim was waiting in the wings, on Tom's say so, to come join the band." Tim was invited and joined. It was obvious from the start that the fit was perfect.
The addition of Richard and Benton changed the direction of the band, musically. Whereas Gordon and Evans had leaned toward a style conducive to a Buffalo Springfield and Jefferson Airplane sound, Richard and Benton preferred the harder edge.
"At the time," said Wisley, "Tom was playing a Stratocaster with hard strings. He had Hendrix down to a T. He was into really, really hard stuff for the time. I remember one night he played with his teeth and with his guitar behind his head. Bill was sick for some reason, or maybe he was just late. Ann was still around the club and she came in and frizzed our hair out, so I had the Noel Redding look and Tommy did too. We actually set a guitar on fire. I mean, there were no fire extinguishers or a fire marshal. You couldn't get away with anything like that now.
"The cool part was, here we were, freshmen, sophomores, seniors in high school, and we were a really hot band and Peters was doing his DJ thing and Walker was a senior doing radio and Skilly had her dance thing. We were all connected and it was kind of a cool time."
That cool time included a pit stop at Tulsa's Civic Center for a concert with The Animals and Sweetwater. Tulsan Lowell Burch remembered it well.
"Rubbery Cargoe was considered one of the premier Tulsa bands, if not THE premier Tulsa band for some little time," Burch said. "They had a great local rep, but I had not heard them and was put off by the name. So many groups were Rubber this or Plastic that. The night of the concert -- August 29, 1968 -- Rubbery Cargoe was easily on par with The Animals, and that's going some because The Animals were stellar in live concert. RC was energetic and charismatic, clean, tight and spontaneous. What can I say? I did not go to the show to hear Rubbery Cargoe and my attitude toward them was neutral. Now, 36 years later, my impression of them is as strong as any band I saw in those days. They were a killer band. Great musicians playing punchy, exciting music. No gimmicks. Just straight ahead rock."
The highlight of the show for the band was their version of The Beatles' just-released Hey Jude.
"Jim brought us the tape of Hey Jude," Wisley said, "the day he got it, a few days before the concert. Back in those days, certain radio stations got clips early. On KAKC, Hey Jude would play and in the middle of the song, it would say 'KAKC exclusive' so you couldn't record it and play it on another radio station. Well, Jim said you have to do this, so we worked it up and closed our show with The Animals with it. Most people hadn't heard it yet. We played a shorter version of it, not as long as the record, but we did a three or four minute ending. I've heard that because of that, when some people heard it on the radio, they thought it was us."
"The same day the radio stations started playing it," Phillips explained further, "was the same night we did it in concert. We had that preliminary rehearsal time to learn something that wasn't even on the radio yet."
"I was sitting with Eric Burdon," Peters laughed, "when Rubbery Cargoe went into Hey Jude and Burdon leaned over to me and said, 'Are these guys The Beatles?' It blew everybody away. It blew Eric Burdon away. I went out with Burdon after the show. He came down from his hotel room to meet me at the bar singing Hey Jude. He put on a blow-away show, but he had to because he had to follow The Beatles!" Peters laughed again.
As for the night itself, Wisley and Phillips remember very little. "Burdon was snorting amyl nitrate at that show," Phillips said. "And they were really short," added Wisley. "They looked about four feet tall. I mean, here were all these short Brits, man, walking out all duded up in the jeans and the scarves and the hair. They were definitely rock stars." When asked what they said to them, Phillips said "We didn't talk to them. All of those people were shuffled from the bus to the stage and back pretty quickly. Like they were going to get mobbed or something."
If that concert did nothing else, it convinced all those involved that Rubbery Cargoe was, indeed, major league material. Peters redoubled his efforts with the band while pulling his full shift at KAKC. Then, when The Machine shut down, the band hit the road.
"Mostly, we played gigs in Missouri and Oklahoma with a few stops here and there," said Wisley. On a trip through Louisiana, he remembered a cop pulling in behind them in a small town they were passing through. Wisley figured that the cop just wanted to make sure that those long-hairs pulling that trailer were not stopping in his town.
When the band was in town, Peters continued working with them, honing them for the future. "I was at all their rehearsals," he said. "I was shaping them to go into KVOO and then to Memphis, so we rehearsed and rehearsed and rehearsed."
One thing that set the band apart during those days was their little garage studio. Phillips told it like this: "We rehearsed in our house two or three times, at which point my dad said I'm not going to put up with this crap. We have this garage and I'm going to build you a room and he was nice enough to do it. He even put a bathroom out there so all my buddies wouldn't be traipsing through the house. That was basically what became known as The Studio. We had a Sony reel-to-reel recorder. That was the studio part.
"I have no idea how we got something as big as a B-3 Hammond organ in there, but we did. We had the organ and a drum set and our amps. I had the walls painted black with black lights and posters on the wall. Typical psychedelic setup."
"And the stars on the ceiling," added Wisley.
"Yeah," Phillips sighed. "We had the whole deal."
"We did," agreed Wisley. "All of a sudden, there's this little studio and a Sony recorder with Shure mikes and stands. We had what we thought were just regular instruments and equipment for the times, but it turned out to be B-3 Hammonds and Hofner basses and Gibson G-135s and I think Bill had a Hummingbird guitar. We didn't think everybody had that, but we didn't fully appreciate what a great opportunity we were given.
"Bill and I wrote Time in that studio in about, what? Fifteen minutes? We just turned the recorder on and Bill started playing these licks and I started singing these words and it just came out like it is, fundamentally, on the record."
That studio quickly became a favorite hangout for the band members and their friends.
"Bill's parents," said Wisley, "owned a sandwich company downtown and they'd feed us. Bill's mother was always so hospitable and everyone was fantastic."
"In that studio," Phillips said, "we worked with Peters, who was pushing us toward, I don't know, I guess the psychedelic theater aspect of the whole deal. He was trying to mold us into what he saw as our potential to fit into this psychedelic type of age. We ended up jamming a lot, you know, where we'd turn it all loose and see what happened. (The jams) were basically the stuff we took into the KVOO studio."
"With Annie gone," Peters said, "what we ended up with were these four guys who needed badly to be in a real recording studio. Rob Walker had worked with me at KAKC and was then at WHBQ in Memphis. I talked to Rob and just by chance we started talking about recording and he said, well, my station is right next door to this recording studio called Beautiful Sounds. It's run by a guy by the name of Dan Penn and I said, 'you mean the guy who produced The Box Tops?' and he said 'yeah. In fact, I'm becoming friends with him.' So I said I have this band here in Tulsa that needs to be in a studio. Why don't we talk to him about recording in Memphis. But we needed a demo. That's when I went over to KVOO.
"We polished up the songs for the KVOO sessions and for what ended up being the session in Memphis. Everybody was getting along and it was just a gas! Everybody was high and having a great time driving around the town and listening to the radio."
All was not fun and games, though. Peters and the band readied four or five songs and headed into KVOO, which at the time was a huge local radio station.
"KVOO had a giant signal," Peters explained. "50,000 watts. They didn't really know what to do with it, or didn't want to know if it involved rock and roll. It was a huge place, built like a modern network type of studio, with a large circular area in the center and studios coming out of that. I booked the time and four or five sessions later, we had a tape that we could send to Memphis."
The band itself was in a bit of flux at the time. Phillips and Wisley were graduating, which meant the future loomed ahead and obscured the view.
"The Machine had closed," Wisley said, "and we did the tape and were playing here or there, but it was hard to get gigs doing original material. Bill was going off to college in Norman, which was hours away. Things looked bleak. I mean, I'd just graduated and was going to start at Tulsa U, and I remember thinking, this whole thing's going to fall apart. We don't have a place to play and we don't have anyone behind us now, sort of. We were all thinking about what we were going to do when we grew up. There were weeks when we wouldn't get together or wouldn't have gigs to play."
While Peters finished the tape and worked radio, the band members sat.
"It was summer break and we were all free for the summer," continued Wisley. "We somehow got a gig in Colorado Springs at some club that allowed us to do our own material. Before the gig, we rented motorcycles and headed up into the mountains where we took LSD. By the time we got back, just in time to play a seven o'clock set, one of the bikes was wrecked, but the band was intact.
"After that gig, we came back to Tulsa. We came into town and drove straight to Zink Park where they had a flatbed truck set up. So we set up our equipment and tore into a set. Everything clicked. It was just phenomenal."
"When they came back from Colorado Springs," according to Peters, "they had somehow realized that they could really make it. That trip in itself changed the band's personality."
"The weekend after Zink Park," Wisley continued, "we got a call from Peters saying Rob's got the tape and he wants us to come to Memphis. He knows a guy who has a studio and they want us to come down and see what happens. This was going into Christmas of '69 or so. Well, I wasn't into school anymore. Bill didn't seem to be. Tommy and Tim were still in high school. But that's when we decided to do it. It was early Spring of '70 when the actual decision was made, but it was really made at Zink Park."
Walker elaborated: "I got a call from Peters one day telling me he had a band he thought was ready to record. He sent a demo. Coincidentally, writer-producer Dan Penn was completing the building of a brand new recording studio, Beautiful Sounds, next door to the radio station. I took the demo to him and he agreed to let me record the band at Beautiful for ZERO upfront money. Beautiful would own the masters and recoup their expenses upon sale or lease of the masters to a record company. I would get producer points which I would split with Jim, the band would get artist points, and as I recall, publishing would be split down the middle."
"The band was entirely co-operative at the time and a lot of fun to be with," Peters noted. "It was like hanging out with The Beatles. We would ride around town and everything was funny and everyone was high and everything was cool. They couldn't wait to get to Memphis."
Wisley's parents were against it, "but I was 19," Wisley said, "and there wasn't anything they could do about it. Bill was saying that this was our shot. Tim still had to finish a year of high school and I don't know how his parents let him go. It was just, we're going to do this. We had a shot, however serious it was. In a way, it didn't seem that serious. It was more, okay, we have some people in Memphis who want to do something. Let's go there and have some fun."
"And that's what we did," Phillips added. "It was a good time, man. It was kind of a party atmosphere. When we got to Beautiful, one of the things they said was, well, boys, we have three or four days to record this. Do you guys take amphetamines? And we said, we did all the way down here. I suppose we could continue. That's how the album was cut. Twenty-four hours a day. You talk three or four days. We're talking three or four twenty-four hour a day days."
CHAPTER TWO: Into the Mystic...
CHAPTER THREE: The Things We Dream Today...
CHAPTER FOUR: Delusion and Dissolution...
CHAPTER FIVE: The Painful Look Back and...
CHAPTER SIX: Such Is the Power of Music...
Supporting the Indies Since 1969