BOMB'S AWAY!
It's
DEADWOOD REVIVAL!
Did you know that there is a Blackberry app which prints out what you speak? Only according to Jason Mogi, Head Dead Wood, it never gets it right? I know. Who cares? Except Mogi and the other revivalists? A whole crowd of people, now, after catching at Corvallis, Oregon's Bomb's Away Cafe on a cool summer night. Comedy Central should have filmed Mogi and crew's takes on the Blackberry and more between rousing roots jams and pure country and old-timey goodness. It would have made a good special.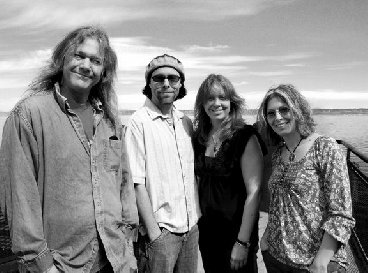 They're all funny, the four people who make up DwR. Mogi is a born ringmaster, choreographing not only the music but the between song banter. Kim Trenerry plays foil to Mogi, repartee an obvious result of years of almost Siamese Twin existence. Julie Campbell stands to the left in virtual stealth, a steadying influence until called upon to produce the right response, usually an animated facial gesture or casual blush. And Ches Ferguson anchors the right, his dry wit held in check, waiting for just the right moment, such as demonstration of the "eye-roll wave," an eye-roll version of the faddish wave prevalent at football games a couple of decades ago. Had the audience not been there for the band, the humor would have won them over easily, but they were not headline groupies awaiting the band (ahem, headliner, that is). They were there for one reason only: Deadwood Revival, that musical purveyor of everything Celtic Punk as the notice posted in the window stated. No, they do not play Celtic Punk, but in the spirit of the evening even that became fodder for laughter, Trenerry doing her own "eye-roll wave" while explaining just that. (Wouldn't she have been surprised when upon explaining that, half of the crowd, anxiously awaiting Celtic Punk, got up and walked out? Celtic Punk! Who knew?!)
Strange in these days, Ferguson anchors the music with his bona-fide electric bass. That's right, electric. In a world overrun with standup basses, Ferguson remains steadfastly loyal to his electric, played through a tiny amp with perplexingly big sound (isn't it amazing what they can do with electronics these days?). He plucks strings with finger ends worthy of a finger-picking guitarist, laying the bedrock on which DwR builds and, on occasion, plucking solid bass guitar leads. Ferguson's bass and Mogi's amplified stomp board are really all the bedrock DwR needs, but all band members use percussive bursts to pave the way. On 11 July, it was a night of team effort and musical triumph.
They began as a duo, Mogi and Trenerry, having discovered a common bond of music and then more. Needing a fuller sound, they brought Ferguson on board and not long after, Julie Campbell, whose fiddle opened the door to myriad possibilities. At Bomb's Away, all four revived traditional mountain music and bluegrass while infusing a ghost of Rock & Roll into the mix. At least, at moments, it sounded like it.
Beginning the night with Trenerry's Ain't the Buying Kind, a warmup only because it gave the musicians a chance to limber up, DwR set the tone. From Mogi's sharp strokes at his banjo (he plays clawhammer mostly, I believe) to Ferguson's solid bass to Trenerry's deft acoustic guitar and treble voice to Campbell's modernized old-timey fiddle, it worked. By the end of the tune, a seated crowd shifted in their seats, heads nodding. It was hard not to move. One sensed dancing in the wind.
Dance the crowd did, too, the infectious DwR germ a pandemic of musical proportions. Even the toned down traditional Red Rocking Chair, with its high lonesome fiddle and even higher lonesomer harmonies (Mogi and Trenerry's voices at times blend and juxtapose simultaneously) had feet shuffling and heads bobbing, Mogi's lightly percussive banjo riffing in support. A little jig and reel number (Sugar Hill) brought out the clogging (at least, I think it was Sugar Hill, for it had that old Grand Ol' Opry hoedown sound and feel), Mogi's country rockin' That's Alright had the crowd swaying (even the simple harmonica whaaa at the end of each verse brought applause), a cover of Johnny Cash's Big River revved things up a notch and by the time the band launched into the raucous Glendale Train, DwR owned the Bomb's Away.
There is something about DwR, or maybe it was the setting (the Bomb's Away stage is in your face and crowd participation was encouraged by the band), but few concerts get personal like it did on Saturday night. By the end of the first set, the crowd was just short of family. The music had a lot to do with it, but walking away (it was way past my bedtime--- they played an hour and a half set)--- I felt like I was walking away with more--- something personal. In my mind, I thought DwR was the kind of band which should never have to worry about finding a place to stay when they're on the road. One cannot play the kind of music they play the way they play it without inviting reciprocation. Next time through, they can stay at my place if they want. I'll even stock the refrigerator with first class ale. Gordon's or maybe one of the excellent Calapooia brews they have on tap at the Bomb's Away, if they want. Like I said, it was like family.
I made it home and started this, the beginning taking shape as the band stepped into set two. I wanted to make sure my impressions did not dissolve in sleep and that my appreciation for the music I heard became fond memory. If you have an appreciation for string bands, love easy country rock music or just want to plain see musicians who take great joy in their music and take you along for the ride, scope out Deadwood Revival. If they're ever in your area, it's worth a cover charge and, to my way of thinking, a whole lot more.
And before I forget, DwR has two albums, if you're interested. Holy Crap! I just checked CDBaby and see that they had a self-titled album before This Old World, their studio album previous to the recent and excellent live Sat 730. If you dig country and bluegrass with both modern and old-timey edge, track these guys down. As always with CDBaby, sampling is encouraged.
Frank O. Gutch Jr.