ELLIS PAUL
The Day After Everything Changed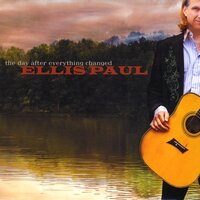 Ellis Paul is a wordmeister--- an honest-to-God, dyed-in-the-wool master of lyric--- and I'm a dunce. The first time I played The Day After Everything Changed, I became obsessed with the lyrics, playing certain tracks again and again, trying to get the lyrics right, when all I had to do was pull the lyric sheet out of its little pocket. Actually, it's not a lyric sheet but a 16-page booklet with lyrics and photos, beautifully put together and full of the exact lyric info I was seeking.
No problem, though. Dunce that I am, it gave me plenty of time to shake hands with Mr. Paul, previously known to me only through his attachment to who overwhelmed me with her 2006 album, Big Dream Boulevard. Paul added background voice to a few of the songs on that somewhat overlooked beauty of an album and, from what I read, introduced Duvekot to a large number of potential fans by signing her as opening act on a number of his gigs. Such acts would stand him in good stead with any Duvekot fan and each of us would be willing to forgive Paul for any of his failings. Thing is, I can't find any. Not musically. Not on The Day After Everything Changed.
Paul lines up a very impressive array of songs, some uplifting, some reflective, some downright heartbreaking. Of the heartbreaking variety, his ode to the devastating after-effects of Hurricane Katrina stands out--- way out. Hurricane Angel tells the story in a few short verses, the lyrics grabbing the big picture in masterful fashion:
On the day the levee broke
The water did rise
The flowers did choke
I sat in the living room
Lit one last smoke
Then I watched it all drift away
Now my credit card's ringing up
At thirty percent
There's a man in India
Wondering where the money went
But I... can't... pay
And that is just the beginning. Yes, there is more. One man driven to the brink by a force of nature, alone and desolate, pushed further by a system which doesn't really care in spite of all the words to the contrary. Multiply it a thousand times--- a hundred thousand times--- and you don't even begin to understand. Paul understands. For four and a half minutes, he understands perfectly.
He understands a lot of things. He understands love. He understands loss. He understands alone. More important, he understands how to make you understand it, even if for just the life of a song. Like young love. There have been many songs written about young love, but Paul recreates his own with Annalee, a song written through a remembered haze of pheromone-drenched magic. Like real love, as portrayed in the struggles of a family man afraid that he will not measure up only to realize that he has to and why (Rose Tattoo). Like history. He personalizes the Civil War much like Robbie Robertson did with The Night They Drove Old Dixie Down (The Cotton's Burning). He incorporates the spirit of an Erik Satie with the lullaby-ish Paper Dolls, an almost cinematic view of lonely.
He even rocks out a bit and allows me my own fantasy. A few years ago, I discovered Charlottesville--- not the town but the music of that town--- and have been taken down a road to some of the best music I have ever heard (Thank you, Danny Schmidt and Devon Sproule). I have wrapped my arms around the town and the musicians who live there and when I heard Sometime, Someplace I made it an ode to Charlottesville. See, there is this tavern there--- Miller's, in fact--- that is a crucial part of the town's music lore, so when Ellis Paul belts out
Sometime, Someplace
I'll meet somebody
This clown can fall for anybody
Sometime, Someplace
But tonight I'm getting' cozy at the bar
Down at Miller's place
I see Charlottesville's Miller's. Paul moved to Charlottesville not that long ago and if he did not write that song with that tavern in mind, I don't want to know. In my mind, it could be no other.
If you decide to pick this album up, and I recommend you sample his songs on his if nothing else, do yourself a favor and pull the booklet out of the pocket on the left side of the unfolded jacket. Read the lyrics while the music plays. I do even now and I've listened to it a lot. I guess, for me, some songs are written so well that you have to read along to get the full effect. And the full effect of The Day After Everything Changed is pretty awesome.
Frank O. Gutch Jr.
Supporting the Indies Since 1969