ERIC LICHTER
Elks in Paris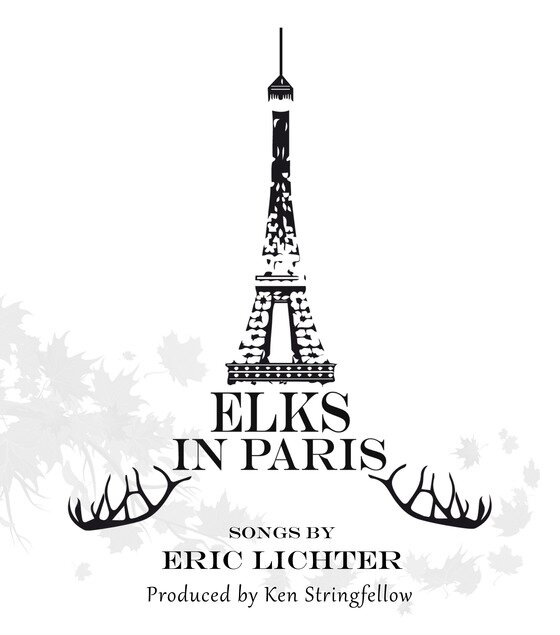 If Eric Lichter had no talent at all, you would have to give him credit for being smart. Thing is, he is loaded with talent. He spent a few years anchoring the rhythm section of Seattle band The Life before becoming a Pajama (a Green Pajama, in fact) and in the Pac NW, that's one hell of a recommendation. Over the years, he has honed his skills as a songwriter and singer which makes him a threat on many levels (he is best known as a drummer).
The smart? When he filled his steamer's trunk with songs and considered a solo album, he was smart enough to tie up with one of my favorite producers of late, Ken Stringfellow, who in addition to his work with the re-formed Big Star and his original band The Posies, has put together or played on albums by the likes of Hannah Gillespie (whose All The Dirt album made my best-of list for 2011 and still knocks me ass over teakettle every time I hear it), Neuman, and Red Jacket Mine while putting out a solo album (Danzig In the Moonlight) which made my best of 2012 list. If I was a songwriter and ready to go it alone, Stringfellow would be my first choice too.
The thing is, Lichter brought ten songs to him that were album-ready--- ten songs remarkable in their simplicity yet ready for treatment. Solid songs. Excellent songs. Songs which I hesitate to label Pop, though they are, for fear of having some of you stop reading right here. Trust me when I tell you that by the time Lichter and Stringfellow finished with them, they were both more and less than what you might imagine. They are more than songs, even. They are works, and if they fall short of art, they are works which resonate in my head and soul, bumping other favorites aside during walks and drives. More than once I have caught myself struggling to remember where I had heard something only to realize that it was Lichter. It says a lot to me that without thinking I want to know where I've heard one of his songs. Believe me when I say that I know where songs I don't like come from.
If asked, I would be hard pressed to pick favorites from Elks in Paris. Over a number of listens, each song has filled a slot as favorite. Lately, it has been Tell Me One Thing, its beauty as much in odd chord changes and minor chords as anything, the harmonies chilling in an odd sort of way. It reminds me a bit of some of the lesser known Marmalade songs which radio in the US ignored back in the early seventies, the song structure just beyond the formula for airplay. Right now, it is a real favorite, far beyond the confines of this album.
I Still Insist has me thinking Alan Bown, and if you've not heard their version of All Along the Watchtower, you should. If someone told me that Lichter had listened exclusively to the The Alan Bown! album while writing the song, I wouldn't bat an eye. Posh is Pop at its purest, simple melody and chorus making it what we would have called back in the day "AM gold". You couldn't pick a better song than A Plan So Beautiful to kick off an album like this--- easy rocking and produced to perfection, the background vocals adding just enough on the chorus to make it magic. It reminds me a bit of Rich McCulley, another Pop-rocker who really knows his way around a song.
You know who would love this album? Every one of my old girlfriends. The ones who loved Carole King and Jackson Browne and Linda Ronstadt. And no, Lichter doesn't sound anything like any of them. I think it's because on Elks In Paris, the songs are the thing and Lichter brought some absolute beauties to the studio. Songs that get stuck in your head but you don't mind because they are songs you like hearing and humming and singing (even singing along with). I mean, any one of these could be a hit, at least in the old days. They're that good.
You know what I really like about Ken Stringfellow? As a producer, he knows when to produce and when to get out of the way. Something tells me he did a lot of both on Elks. I would have liked to have been privy to the many conversations leading up to the completion of the album. It is a process, you see, and I have always been fascinated by it. A producer walks a fine line because, in the end, the final product belongs to the artist. I guess that's why they call albums like this collaborations. There is a lot of both Lichter and Stringfellow here. I can't imagine either one having walked away displeased.
You know what I think? I think the real winners here are the people who find this album. It isn't easy, you know--- discovering new music. In the digital age, it is just short of daunting. Perhaps it is time to undaunt yourself. Elks is the perfect album to start with.
Frank O. Gutch Jr.