ASH GANLEY
Universe Acceptable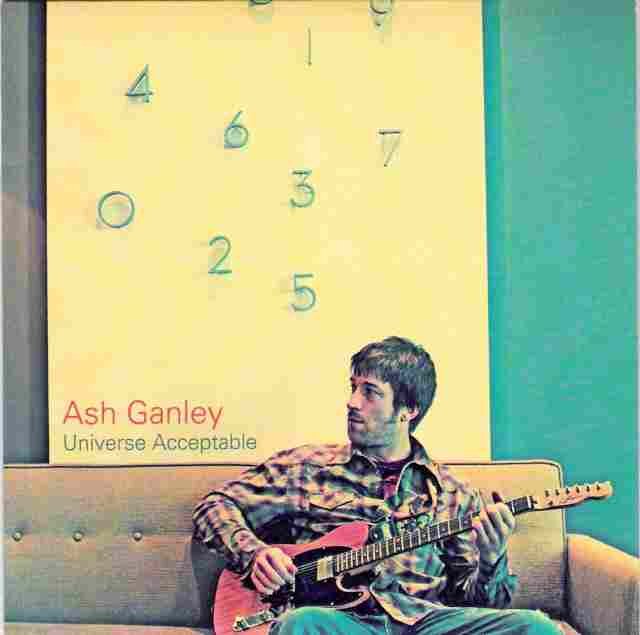 Let's see. What did I write about a couple of years ago? Something like Amazing. In a world expanding faster than the Big Bang, ten million artists and bands are jumping on the Americana bandwagon, tossing huge amps and flashy guitars aside for banjos, mandolins and even the occasional ukulele. So what does Ash Ganley do? He bucks the trend. Ganley is the guitar playing fish swimming upstream against a current unleashed by the crumbling of the major record labels' influence, banking his very existence on mainstream rock. Twenty years ago, it would have been marketing suicide. Today, it might just be genius. Actually, that's exactly what I wrote and I stand by every damn word of it. Luckily, so does Ganley. Sure, he's still swimming upstream, but his stroke is strong and sure and he has plenty in reserve.
Seriously. Do you know how hard it is these days to find a virtually genre-less rocker who is at the same time fresh and new? As Ron Davies wrote and Long John Baldry sang, It Ain't Easy. Just finding Ash Ganley at all was pure fluke for me and I have to thank Oskar Blues (and their many fine brews) for that, for the first I ever heard from Ganley was on an Oskar Blues CD sampler. Elysian Fields so impressed me, in fact, I searched Ganley out on the Net, begged and pleaded him out of his first CD (Dark Fuel) and then sat back to await his second (Cruel Waters), then in the works. When it came, it was smoother and more refined and well worth the wait.
Well, that was then and this is now and now we get an even smoother and more refined Ganley. The first few notes of Universe Acceptable allayed any fears I might have had, guitars clean and melodic, and when the singing started, it was a flash from the past. Ganley's lightly textured voice lies somewhere between a seventies' Phillip Goodhand-Tait and an eighties' Frank Carillo, two of my favorite voices from the past and two musicians who deserve far more respect than they have been given. Add the fact that as good as Ganley's songwriting was in the past, he is strides ahead here in both song structure and lyrical content and I'm sold. Best Ganley yet, easily.
Note: I have received instructions from Ash Ganley's lawyers regarding the next paragraph. They claim it is the worst example of journalism on the face of the planet and after re-reading it, I cannot disagree. I originally identified Andria as Adrian (Lawyers, please note that it has been changed) and Ed Edwards as playing all leads. In fact, Ash himself played lead guitar on all tracks except Moving In the Shadows, which is Eben Grace. Edwards did play acoustic guitar. Let this be a lesson to all of you. You can't believe everything you read. And kids, don't try this at home. Now, back to our regular programming...
It could have gone south, of course. Ganley's long-time lead guitarist, Eben Grace, is missing due to a bout with tinnitis, but producer Ed Edwards steps in and performs beautifully, his licks simple and sweet and oh, so perfect that they make me fall in love all over again with what the electric guitar can do. His production is spot on as well, the balance making for maximum sound and effects without overwhelming the sound or mood. Not only that, he handles Andria Ganley's background vocals with deft hand and while I liked what she did on the previous albums, her performance here is above and beyond. Nothing flashy and nothing way upfront. Just enough to make the song that much better.
Again, seriously. If you like straight on rock on the lighter side yet with depth, Universe Acceptable is the best I've heard in some time. Great songs, great performances, great sound. Ash Ganley's best yet. You can take my word for it or you can check out the music on the links provided above. And when you're done checking him out, punch Phillip Goodhand-Tait and Frank Carillo into the search engine. One cool thing about this new world of music is that the past does not stay in the past anymore and their past is as good as it gets, even today.
Frank O. Gutch Jr.
Supporting the Indies Since 1969