HEARTSFIELD
Here They Are
Crap! I've been listening to Here I Am for a number of weeks now and thought I had this review worked out in my head except that now that I sit down, I have to toss aside a huge segment of it in the name of fairness. Being a Heartsfield purist from the old days (I bought their first album not long after it hit the racks back in, what was it, '73? Damn! I'm getting old!), I was a bit miffed to hear the remake of a great track from that album, Music Eyes, rerecorded a capella with Take 6 providing the capella to Perry Jordan's 'a'. Truth be told, while the first album is packed with great music, Music Eyes was the first to awaken me to the band's harmonic choir aspect and later became a huge selling point when I scored my first real record store gig. To jazz it up, however competently, raised the hackles on my neck and I was ready to fight.
So I sit down and am ready to raze Perry and band a new asshole when my alter ego, the one with the wings, popped into my head and broke the pitchfork over ol' ego's head. What if, it said, this track was on a Take 6 album and Perry was asked to sing it with them? ?Well,? ol' Ego started sputtering, ?well, it would... ah, er... but it's Music Eyes!? There went half the review. As much as I seemed to dislike hearing the new version, had it been on a Take 6 album I would be pounding out kudos to that group for not only having the sense to realize what a great song it was but realizing that Perry's voice is essential to it. Then I'm thinking, maybe if they had placed it at the end... I mean, I am an old fart and have a hard time separating tracks, sequence being part and parcel of every album, to my mind. That's what I get for thinking. Truth is, Music Eyes is a song which will live in my heart until death and as long as it is treated with respect (as Take 6 does), I will love it. So my rant, about the song? Never mind. It is actually pretty damn impressive. Makes me want to head to the Take 6 website and check out what else they have to offer.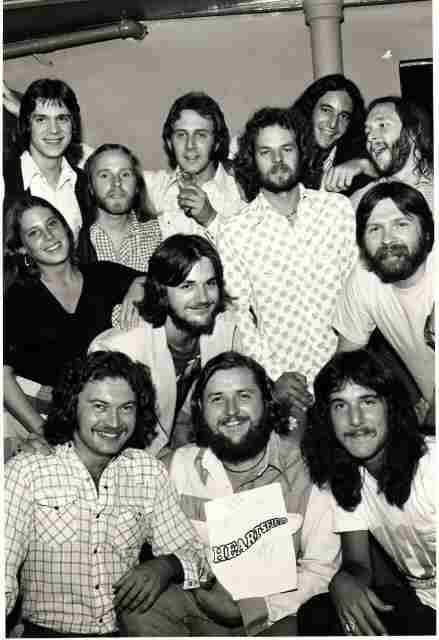 But this isn't about Take 6. This is about , one of the best damn country rockin' bands to grace this country and if Here I Am doesn't prove their musical worth, nothing will. Two tracks, in fact, are straight out of the old Heartsfield mold, hitting the vocal strength of the original band in stride. One Word and Did You Know could be seamlessly placed on any one of the original lineup's four albums without the most discerning fan noticing. If that lineup had a signature, it was the four- and five-part harmony crescendos. These guys nail it on both. Those are harmonies you have to hear to appreciate, too, voices stacked upon one another in silky smooth unison. And before you start thinking anyone can do it in a studio, I saw these guys at The Troubadour during their Foolish Pleasures tour and they ended the set (two encores before the club pulled the plug) with an a capella version of what I later thought was With These Tools but could not have been because that was recorded on a later album (Collector's Item). Suffice it to say that whatever the song was was amazing to the point that Gary Gersh, later president of Capitol Records, took off his shoe and pounded it on the table because the applause was just not loud enough. I would have myself had I had something besides the remnants of Chuck Taylor All Stars that probably would have crumbled to dust upon first impact.
Here I Am has many aspects of that band and they even take it a step further, and I'm not just talking the a capella step. Fred Dobbs, one of the original guitarists is back for the sessions and Jim Peterik (Ides of March and Survivor) adds not only his voice and guitar but his expertise to the project. And there are others, too many to mention here. What they do is capture the Heartsfield heart, that little edge which made them a step above. Here it is in thirteen segments. Separate them if you like. Myself, I prefer to lay back with a beer and listen front-to-back. Guys (and gals), it doesn't get much better than this.
Country rock? I suppose, though I would probably call them rock country. If there was ever a band who could successfully combine the two, it was Heartsfield. When they rocked, they rocked and when they sang, it was heaven. It still is. Here they are with Here I Am, an up-to-date look toward a great band's past.
An aside: As Here I Am was being packaged, Perry Jordan suffered a heart attack and is bravely attempting a return. I say this to the old Heartsfield fans and those of you who will be after hearing the new album. I ask that you log on to the website and maybe send Perry a message of encouragement. After all of the music he has given us all these years, it is the least we can do. Perry, keep the spirits high. We're digging the music and will be awaiting the next album when it's ready. In the meantime, thanks for Here I Am. It's a beaut.
Frank O. Gutch Jr.
Supporting the Indies Since 1969