HYMN FOR HER
presents
Lucy & Wayne
and
The Amairican Stream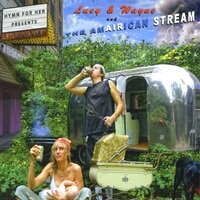 The key to the title of this album is Airstream because ol' Lucy and Wayne lived in and recorded the entire album in a 16-foot vintage Airstream trailer, but the key to the music is listening. I've been listening for over five years and am on one of the best musical adventures I could possibly imagine, one which has scanned fifteen years and over ten albums and began in 1995 with Maggi, Pierce & EJ's first album, (the white one). I am proud to say that I have everything they ever put to disc (though I am sadly missing various files from their library of live performances-- hint, hint) and am ready to drop gloves at any negative mention of either or (two-thirds of the aforementioned) on general principles, which means you say something bad about them and I'll plant my fist principally in your face.
If I was still in school, MPE and Hymn For Her would be the core of my dissertation, the question being how in the hell someone this good and lasting this long could be overlooked. Awash in talent and creativity, the three of them (and, in this case, the two of them) should have busted some heads wide open, but they somehow remain just outside the bubble and I for the love of God cannot understand why. I used to use a comparison with Gruppo Sportivo, but had too much trouble explaining who they hell they were and I was forced to drop the analogy, as it were. What is it about music so far beyond the norm that scares people? I sure as hell don't know.
To fill you in on Lucy & Wayne and the Amairican Stream, Lucy and Wayne (Maggi and Pierce) are to Hymn For Her what Red Knuckles & the Trailblazers were to Hot Rize, creative alter egos living in a parallel world. And, yes, there is a bit of Bizarro World here, but it is a Bizarro World full of intense musical twists and turns which generate a faster heart beat and sense of wonder. How is it possible that Maggi and Pierce, inhabitants of the City of Brotherly Love and everything beautiful, could turn rogue on the road, virtual refugees from a trailer park of ill- or no-repute? God knows, but they do. Maybe it is the cigar-box-banjo Maggi picked up and started playing while on the road, or maybe Pierce popped a blood vessel in a fit of road rage. Whatever it is, if you've heard MPE and Hymn For Her's earlier efforts, set yourself. Lucy and Wayne are Maggi and Pierce unloosed.
Unloosed with twang right off the bat on Slips and later on Cave, which is twang with a vengeance and has those trademark Maggi and Pierce vocals and a bridge to write home about--- banjo flails and brash guitar licks galore. Montana is straight-on hard rock with a Lucy & Wayne kick (must have been the Mountain Dew) and Thursday--- well, Thursday is a humorous and rockin' look at a romp when the husband's gone with lyrics straight out of the last trailer trash porn flick you rented (only without cussing). It is amphetamine-amped and hard to get out of your head after you've heard it a few times, a novelty tune which is too good to categorize as novelty. I find myself hearing it in my head when I'm in line at the grocery store and have a hard time not shouting "oooh" when the preface to the chorus comes along (it's a lead-in lick and you have to hear it to understand what I mean). It also has one of my favorite lines at the end--- "What would you do?"--- a line I certainly could not and cannot argue with.
A little history. The above video is for Grave and features the couple from whom Maggi and Pierce bought the Airstream. Look close. See how small it is? Hard to believe they could get that big sound in such a small trailer, but they did!
There are twelve fine tracks on this album, most outstanding--- hell, who am I kidding? They're all outstanding! Twelve tracks, most toward the rockin' side and on the whole opposite of their earlier Year of the Gold Pig album which, while equally as good, leaned more toward the softer side (with the exception of two great rockers, The Mountain and the demoniacal Drive--- both which are on at the time of this writing).
What can I say? I am so convinced these guys have the goods that I am banking on them. Trying to, anyway. They don't seem to be listed on the New York Stock Exchange nor any other I've scanned. Probably NASDAQ along with all of the other high tech blue chippers. Can't read their writing, though. It's almost like they are uneducated trailer trash, too. With names like PLQRL and FNLOG, they either can't spell or they come from a different country. Or world! That's it! I've somehow plugged into Lucy and Wayne's Bizarro World and can't read their writing! Oh, well. At least I have their music. And you should too. If you don't want me to plant my fist in your face next time we meet, principally speaking.
Frank O. Gutch Jr.
Supporting the Indies Since 1969