INCANDESCENT SKY
Four Faradays
In a Cage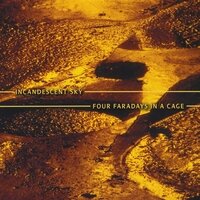 I must be obsessive/compulsive. Every time I find music I like, my world expands like one of those family tree charts on the centerfold of the old and excellent Zig Zag Magazine, one album leading to three more leading to thirteen more and so on and so on. Case in point. Knitting By Twilight's Riding the Way Back. I can't even remember how I found them--- someone's comment, a notice on the Net, maybe a search through cdBaby's new arrivals section or a mention from Dave Pyles at the Folk and Acoustic Music Exchange. It doesn't really matter because when I found them, they were so different than what I was hearing I hopped on it and found some very adventurous and intriguing music. I enjoyed what I heard so much that I signed on to their mailing list and sonofagun if about a year or so later I get this notice of an impending release by Incandescent Sky, a group powered by KBT's percussionist John Orsi. You know me, I'm easy, so I begged a copy out of Orsi and when I got it, sat down for some intense listening sessions.
In spite of warnings from Orsi, who attempted to steer my psyche away from Knitting By Twilight, KBT is what I expected. What I got was something altogether different. Was I disappointed? Not even close. Incandescent Sky is as much power-driven as it is adventurous in its stance and I was dragged back to the mid- to late-seventies and the days when I first discovered jazz fusion and European bands playing a strange form of music which truly earned the title "progressive." Jazz fusion bands for a short time were quite the rage and ranged from artists like Return To Forever and The Mahavishnu Orchestra to Weather Report and Headhunters and began turning even rock heads with their combinations of sounds and rhythms. In Europe, artists like Italy's PFM, Le Orme and Banco, the UK's Soft Machine, The Netherland's Focus, and Finland's Wigwam bent ears with a much more classical music approach, if that be what it was. Oversimplified, for sure, but my point is this: Four Faradays In a Cage brings back the essence of those days and that music with a vengeance and a masters' touch.
To my ears, this album is analagous to a musical cage fight, for that is just what happened--- they locked themselves in a studio for a marathon session of improvisation. September 29, 2007 it says on the jacket. Keyboardist John MaNeill evidently took those sessions into the studio at a later time and worked them over and what he came up with is intriguing if not downright amazing. What I mean to say is that if these sessions were purely improvisation, these four were on the same page and then some. September Song uses equal parts prog and fusion to carry out a 9:27 assault on the senses that is exhilarating to say the least. Antarctica follows it up with a 9:05 musical cinema vision of that continent (or one like it), the music beginning a bit more prog/space than fusion and slowly giving way to a mild feedback-infused tail end before a slow fadeout. Speaking of cinema, The Byways could be a perfect four-minute-plus lead-in for many a film project, space overlaying a shuffling rhythm in mildly juxtaposing fashion. Back to prog rock with Orange Ice, this one ten minutes of what you might expect from such a title--- surreal, ethereal, space--- I don't know. Concrete, Glass, Steel is a dark look inside pushed by what appears to be a ticking clock.
Which brings us to the title track--- sixteen-plus minutes of jamming one might think was an actual written-down composition but is not. At least, that is what they claim. The exact words written on the jacket are that this was "Recorded in The Carpet Box, East Providence, RI in one blistering improvisation session" and who am I to dispute it. It is one interesting ride, that's for sure.
The whole album is, to be truthful. Throughout the 54 minutes, Incandescent Sky rolls and tumbles and tweaks and slides--- four separate musicians somehow on the same wavelength and only occasionally separated by direction and then mainly for effect. If you're up for adventure, this might fit the bill nicely, thank you, but be forewarned. If your cup of tea is Kenny Chesney or Crosby, Stills & Nash, this isn't even close. For myself, I'll take these guys to Chesney or those other guys any day. Put your spoon in a bowl of them and it won't stand up. Put it in a bowl of Incandescent Sky and like the sword and the stone, you'll play hell pulling it out.
As for future projects? More adventure, it seems. When asked about it, John Orsi wrote this: "Incandescent Sky is a different outfit of course, much more of a playing band, especially on the new album. We've received some encouragement for laying out an album of improvs, and so are planning for another after I finish up the KBT album. If that occurs this Autumn, there will not only be a change in the weather, but instrument changes as well. The keyboard man might instead be playing a wind instrument, there will probably be a twin guitar treat, and the percussion man will be chair less, in favor of a concert percussionist stance, happily encapsulated within a web of drums and metals, both tuned and relatively so. Hmmm...we shall see." Yes, we shall see. And hear. I hope.
Frank O. Gutch Jr.
Supporting the Indies Since 1969