BILL JACKSON
Jerilderie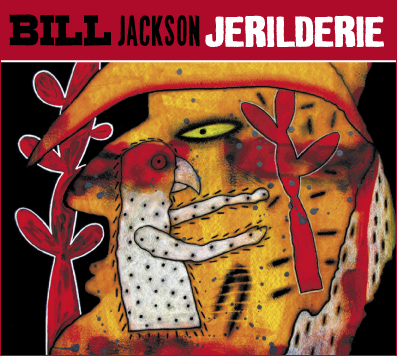 I've known Bill Jackson and his music for only a short time now, maybe between a year and two years. He's an Aussie, one of those storyteller singer/songwriters with a foot in folk and a foot in lore. To listen to his music, you might think he was from Austin or Nashville but for the constant references to things Australian--- places, names, folklore. His music has that certain dust on it that songwriters like Guy Clark and Townes Van Zandt bring/brought to their songs, but there has been something nagging at me since I first heard him, something that was on the tip of my mind but remained elusive until this very morning. Not two hours ago I was working on my second cup of coffee and listening to Jerilderie, Jackson's brand spanking new release, when I had this epiphany. Something about Jackson had always brought something to the back of my mind and it all of a sudden became so clear. Bill Jackson reminds me of the late John Stewart and not in his music as much as what he brings to his music. I cannot think of any way to say it but that it is pure dirt. Like a farmer works with his soil, Jackson works with his stories, weaving a kind of truth. I can hear it but more than that I can feel it.
It is Jackson's approach. A simple, straightforward way of presenting his songs, and I say ?his? reluctantly. Jackson and brother Ross Jackson may have written the actual songs, but--- like Stewart--- they are not really his. When they are done, they are ?in the wind? as Stewart told me once. They belonged to everyone. And there is something in that attitude which makes the music special. And, like I said, I can feel it.
I suppose you could describe Jackson as a folkie. Jackson carts around an acoustic guitar and Pete Fidler, who accompanies him much of the time, carries a mandolin and a dobro. Fidler's been with Bill for about five years now and there is a reason. They share much beyond the music. They are joined at the clef. They are brothers on the battlefield as much as they are just musicians. They are brothers. It is that simple.
I have struggled to write about Bill and his music in the past and I think it was that elusive John Stewart picture, out of focus in the back of my mind until now, which was the problem. I will go back and listen to his last two releases, the eye-opening Steel + Bone and the live EP (well, recorded live in the studio) titled The Nashville Session, probably with new ears and new understanding. I shake my head. It goes to show me that good music is never done.
About the live EP--- it was on that release that I gained knowledge of Australia's involvement in our Civil War through a song about the CSS Shenandoah in a song titled, oddly enough, CSS Shenandoah, an historical look at a pirate ship which sailed for the Confederacy but was licensed out of Oz. It is a fascinating tale of Australians ready to give up their lives for a cause which was not even theirs except for idealism. Read my review here.
So now Bill has put out a new album. I would tell you about it but the liner notes tell it better. About brother Ross--- ?My brother Ross and I started writing the songs on this record around the middle of 2008 and a lot of musical adventures have taken place since then to get in the way of finally putting them down. Time has helped the older ones mature through 'live' performance and given the newer ones a pony to ride on. Ross and I have developed a really special relationship as brothers through writing together and alone--- rhythm in the rhyme, vice versa, truth in lies, lies in truth, war and hell, the bush, family stories, country music, Texas, folklore, fact and fiction etc etc... the beat goes on. Some days we can never get enough of it because it's so damn exciting and then there are long periods where we settle back into waiting for the next lot to come to us and the beautiful thing is that they always do.? They do. The songs on this album are proof. The songs on this album are the results of the above quote. There is a dust on these songs which comes not from the crumbling of dirt clods between the fingers but from the earthiness of the music.
I talked with John Stewart a handful of times in earlier days and I say that not to drop a name but to pay a respect to a man who was as committed to music as any I've ever known. The first time, he was brought by a store I worked at to say hello during a radio station tour to support one of his many fine albums and we found enough in common to keep in touch. To my knowledge, he never came back to Seattle without stopping by to say hello. I was always working but he would stand off to the side while I perused catalogs or priced records and we would talk. Didn't matter what about. When he died, I was crushed. Though we hardly knew one another, I knew him as a fine, fine man and felt the loss deeply. He was the first musician I knew to tell the labels that if they wouldn't treat his music with respect, he would do it himself, something I have myself since taken to heart.
John Stewart would love what Jackson is doing. He would love the music and like the man, there is no doubt in my mind. I wish I could hand him a copy of Jerilderie and hear what he would have thought.
Bill, my apologies for making this as much about John Stewart as your new album. It is your best album yet and it humbles me. It humbles me because I can hear and see a bit of Stewart in your music and your philosophy. Enough to make me love this new album and to make comparisons to a man I truly admired. You had my respect before. You have even more now.
Frank O. Gutch Jr.
Supporting the Indies Since 1969