Pete Kowalke Is Alive, I Tell You!
ALIVE!!!
Pete Kowalke is a Florida boy who learned guitar at an early age, tied up early on with the fragmented and demented musicians who would become Cowboy, left for New York where he auditioned for John Hammond, turned down a chance to record, then crashed the sessions for Cowboy's first Capricorn album, Reach For the Sky, making himself de facto member of the group. While that may not mean much to some, Cowboy had the respect of musicians such as Duane and Greg Allman, the Allman Brothers Band (Cowboy opened for them on various tours) and Pure Prairie League, with whom they shared many a bill. They released two albums with the original band, both on Capricorn. Shortly after the second, 5'll Getcha Ten, the band split up and Kowalke headed every which way. He passed through L.A., headed back to Florida, bounced around for awhile and finally settled in Eugene, Oregon, where he changed his name to Peter Giri (he just got tired of having to spell the name, I guess) and continued (yes, continued, because he never stopped) playing guitar.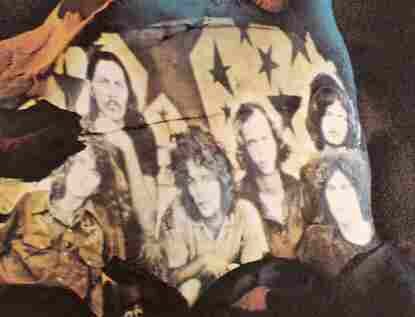 The years between Cowboy and his band of the present which he calls, for lack of a better name, the , he recorded demos, worked with a number of lost but well known musicians and, well, lived. When you talk of Pete with members of Cowboy, they laugh and (probably) roll their eyes. Pete had, and has, a sense of humor and would have, if it would not have ruined the instruments, sprayed shaving cream into the f-holes of guitars or tied strings of firecrackers to drum pedals, all for a laugh. He was a funny guy. He still is. Between songs at shows, he is known for his conversations with politicians and musicians in the form of hand puppets, his odd jokes, and his use of props. When the music starts, however, he's all business.
His business on March 21st, 2009 was at the Florence Playhouse, a small and unassuming old building in the Old Town section of Florence, Oregon. The room, large enough for maybe four small squares of a square dance, has a slightly raised stage on the wall which steps down to a hardwood floor. The stage is deep enough for the four-piece and enclosed by walls on three sides, the left containing a door to a changing room. There is a comfortable feel about the place. An atmosphere of ease.
Brenda Duffey, who had bought Kowalke's CD and had fallen in love with the music, approached him about a showcase (Duffey has been involved in dance and theater in Florence for some time), seeing it as a chance to expand the local arts arts scene in this small coastal community. Kowalke agreed and set about putting together a band.
Mike Brewer (bass) was an easy choice. Solid and dependable, Brewer has played with Kowalke many times in every sort of band you can imagine. Barry Flast happened to be in town and Kowalke approached him about playing keyboards. Flast's past conjurs up bands like Kingfish and a few splitoffs of the Dead. His voice, slightly more on the blues side, is a perfect contrast to Kowalke's straight ahead rock & roll phrasing. Theo Halpern, young by comparison, anchors the quartet, solid and dependable.
The music is a bit rough, like a cold engine, but this is their first show. Kowalke begins with a song about a long distance love affair (I'm a Slave For You) after telling a story about gators and crocodiles and shining flashlights across a lake full of eyes, a little swamp rock, if you will. Swamp rock, in fact is a good portion of what he plays and as things begin to warm up, the engine gets smoother. Gators in the Water is hip deep in blues and Kowalke's guitar, played through one ten- or twelve-inch speaker begins to cry by the end. A little poppy Allman Brothers-style song next, I'm Glad to Be Here, and then the upbeat My Love Will Last, fueled by the getting more impressive by the minute electric piano of Flast and things are beginning to cook.
You know there has to be a tune just for the band and Time For a Change is it for the night. Three minutes of rocking verse and chorus, everyone takes a solo and you see four musicians become a band. First gig or not, this is what will bring fans to the clubs and concerts. It is not just Kowalke unplugged, it is the Pete Kowalke Band unplugged and well worth seeing.
While in terms of review, the rest of the night is anticlimax, it is anticlimax of the best kind. Three songs lead to intermission--- Positive Flow (very Ramblin' Man sounding), Gypsy Bogman (Kowalke plays primo slide, using it as harmony to his vocal on the chorus, an effective trick), and a funk tune reminiscent of fellow Cowboy member Tommy Talton, I Want To Know You.
Intermission and another set, this one for the band itself. A couple of Dylan covers (Flast acquits himself quite well but sounds little like Dylan), another cover--- this one of The Zombies' She's Not There, Mike Brewer handling the lead vocal very well--- another Kowalke original, the solid rocking Black Cadillac, and the night begins to fade. The crowd, small but enthusiastic, begins to fade as well (two and a half hours of Kowalke and crew can do some damage) and the curtain falls (a turn of phrase, if you will).
Pete Kowalke has been playing the bar scene around Eugene for a few years now and has only recently felt the need to promote himself. Surrounded by an array of top quality musicians, he has been content to bask in the music. Perhaps putting the band together is a first step toward change--- toward a Pete Kowalke move centered on his own music. He's never really done it. Even with Cowboy, he was only one of a handful of strong writers and, as a result, somewhat stifled. Well, the unstifling started in Florence on March 21st of 2009. You can quote me. Here's to the unstifling.
Frank O. Gutch Jr.