Lost Country
when we danced
Here comes Jim Colegrove adding to his hours and hours of recorded history. Rock historians know him from what seems like three thousand bands and recording projects such as Bo Grumpus, Teddy & the Rough Riders, Great Speckled Bird and one of my all-time favorites, The Juke Jumpers--- roots rock right up there with the best and recorded on one of the coolest labels ever, Amazin' (If it's a hit, it's amazin'!). This time around, Colegrove has planted roots with Lost Country, a group of 50s' and 60s' castoffs--- or would that be outcasts--- all with feet in--- well, roots.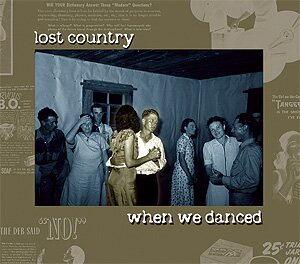 The name is well chosen, as is the title of the album, because when they play, you want to dance. I, my own self, remember gatherings of an early evening, console radio cranked up, the smell of whiskey and coffee and cigarettes filling the air of someone's house (though when I see pictures, they were no more than shacks). I remember laughing and dancing and talking in volume, but most of all I remember the radio, the sweet and sometimes rabid sounds blasting out of what was probably one ten-inch speaker filling the room with honky tonk and boogie woogie and country swing and rags and whatever other sounds there were which slowly entwined with R&B and became rock. It was all sweet, sweet sound to a kid not yet five, allowed to stay up until the sky turned solid black or the head began to nod.
Do we even dance anymore? As a people? It doesn't seem so, but maybe it's because the music doesn't make you want to. Lost Country's does. You could have stuck your head in any tavern or bar in my old hometown in the mid-60s and seen people drinking and dancing to a tune like I Could Swear It Wasn't Raining, pedal steel slipping out the door and onto the street with mournful vocals following slowly after, or Got My Foot Caught in the Door, jazzy swing tones undulating beneath jazz harmonies (very Pee Wee King, this, and Pee Wee King was a god in the old hometown).
It doesn't all lean toward the country, either. Pop rears its head on tunes like It Takes Too Long, a tongue-in-cheek look at aging played 60s-style (like something Connie Francis might have put on an album between the hit tracks) and the country/surf/rock Like a Wheel with its heavily reverbed guitar and odd chord changes could be a garage classic (I mean, if you didn't know, you might think...). And I wouldn't have thought anything about it if The Beatles had recorded It Don't Work Anymore around 1965 when they became enamored with artists like Buck Owens. Speaking of ol' Buck, if Right What's Left isn't right down his alley, well...
Lost Country plays music with a groove--- a cool groove. That is the name of the label, after all, and you hear it here. They're the latest in a long string of Jim Colegrove projects, but this isn't just Colegrove--- it's Lost Country, front to back. If you have read this far, though, I do heartily recommend you check out the label's site, if for no other reason than good reading. You might be surprised what you learn. While you're there, buy an album. Maybe Lost Country isn't lost anymore. Maybe it will be the next big thing.
Frank O. Gutch Jr.