TERRYE NEWKIRK
Pure and Simple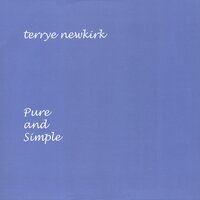 Terrye Newkirk could not have found a better title for her new album because it is, indeed, Pure and Simple. Newkirk is one-third of a musical dynasty of sorts and she is a Catholic but, well, Catholics do not hold anything against us for being stupid, so I guess we can't hold anything against them for being Catholic, eh? (That's a joke, son, which Newkirk will get if you don't). She is technically one-third of a musical dynasty of sorts, being the ex-wife of Steve Young and mother to Jubal Lee Young. Even before meeting Steve in the sixties, though, Newkirk was pounding out songs for Snuff Garrett's publishing arm, working alongside writers such as Roger Tillison (with whom she formed a recording duo, Gypsy Trips), J.J. Cale and Leon Russell. She wrote My Oklahoma, considered by many to be one of Steve Young's best tracks, among others.
After birthing son Jubal (something for which the world may never forgive her, he being the most liberal redneck who ever walked the dusty plains) and eventually separating from husband Steve, she dropped out of music to tend to the simple matter of survival, possibly intending to find her way back. It took her decades. On a somewhat recent day not too long ago, she decided that Steve and Jubal should not be having all the fun and she dove back in. Hence, Pure and Simple and a start, I hope, to another long stint in music.
You see, Newkirk hasn't really progressed beyond what she was doing back then and that's a good thing. She has a knack for simplicity--- simple lyrics, simple and major chord progressions, simple reasons for writing. A sunset. A place. A love. In her songs, I hear a return to the fifties and sixties Country & Western and Folk scenes (that's right, youngsters--- it was Country & Western before it was Country, and even Hillbilly before that. See, you've learned something today.). Those were simpler times and needful of simpler tunes. These are complicated times but we need simpler too, I think. Sometimes.
Now, when I say Country & Western, you're probably thinking of shit-kicking or southern-drawled bar songs or cry-in-your-beer songs. Thing is, it was never all that. Back in the day, there were beautiful ballads presented without a single y'all, rockin' tunes (Country & Western was a side of Rock 'n' Roll, whether you think so or not), religious songs (some hymns, some not). There were, in fact, as many genre-bending songs in Country & Western as exist today. It wasn't all twang and yee-haw. Swear on a stack of bibles.
What Newkirk gives us here is a good look back to those days, but the side without generalities. Each song stands on its own. Each song leans this way or that. Each song takes me back, if just for the production values. These songs could live in the fifties or sixties easily. They are presented, thanks to producer/musician Thomm Jutz, in the simple but not-really-simple fashion in which they were written. Listening to the title track, I can almost hear Buck Owens' introduction..... to My Oklahoma, the response of appreciation from Steve Young fans..... to Coosa River Valley, the sound of early Dolly Parton. Each song has its story and is presented so that you can bring your own past to it and feel right at home.
Terrye Newkirk and I share one thing besides our love for the music of Steve and son Jubal. We ain't no spring chickens. Her voice has softened over the years but in her case, that is not at all a bad thing. She still carries a tune just fine, thank you, and brings an honesty to each song which she might not have in her youth, not that I would know. I'm just saying that her delivery is part of her charm, that's all. And she has never been more charming than she is on My Oklahoma. Steve Young may have recorded the definitive version on his Seven Bridges Road album, but Newkirk comes from another dimension. Pure and simple. Like I said, she couldn't have come up with a better title.
Frank O. Gutch Jr.
Supporting the Indies Since 1969