TOM MANK
SERA JANE SMOLEN
Paper Kisses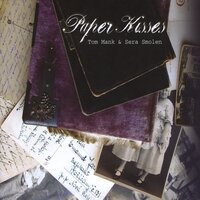 If you're looking for that three-o'clock-in-the-morning album, this is it. You know, when you come home polluted or just exhausted and need to wind down. When you wake up at three a.m. and can't get back to sleep. When nothing seems right and you need perspective or everything seems right and you need perspective. You see, the songs on Paper Kisses are soft kisses on the cheek and quiet conversations in the night. They are late evenings and early mornings in subdued light or in the dark. They are hope and despair and joy and angst. They are a gift to the discerning ears of people who treasure music beyond its use as filler or background music.
Yes, I am a fan--- a huge fan--- and more now than ever. I have written about them (read my review of their previous album, Where the Sun Meets the Blue, here) and plan to again in the near future because Mank and Smolen are carving out their own little corner in the music world and real music fans need to know. Genre-wise, I suppose you could casually toss them in the blender with folk and jazz and blues and classical--- or you could take the easy way out and just label them Americana. The thing is, genres are so limiting--- not in the music, but in the mind--- and God knows we are all, myself included, small-minded enough. Tom Mank is not, nor is anyone associated with this album.
You don't have long to wait to hear it, either. The fade-in on Broke Again is masterful, mood set with lightly strummed and picked acoustic guitar beneath slow-train cello and djembe so spot-on it made me look it up (it is a hand drum, but a hand drum of an exquisite nature when played right, and here plays it right). Add Smolen's cello breaks and Mank's light touch on that guitar and you almost have it. What really takes this song over the edge is the siren-like voices of producer Julie Last and , who combine in perfect dissonance to give the song the essence of eerie which they recreate in the spine-chilling Amsterdam, the song ending the album. It almost stops the heart, it is so beautiful (and beautifully recorded).
To state that Mank's songs are very personal is an understatement. Where the Sun Meets the Blue's title track was written about a dear friend, Molly Finn, who was lost at sea in a hurricane. Mank had known her since she was five years old and came to grips with the loss partially through writing the song. On Paper Kisses, he continues and expands the tribute with Angels Are Watching You, reaching musically toward what he calls "the other side". It is pure lament, the only description I find applicable, and is carried a step further by the vocal harmony and (pump?) organ of .
The song title, Kennedy, says it all in a song written about the day of the shooting of President John F. Kennedy. Mank was just a kid that day but like all kids, remembers the shroud which covered the country and the world. It is a folk/dirge tribute capturing the perception of something gone bad wrong and which will live with him (and us) for the rest of his days. The simple addition of Joe Veillette's Gryphon 12-String--- which Mank describes as a cross between a harp guitar, a 12-String and a mandolin--- takes the song up a spiritual notch and a half (helped in no small part, again, by Smolen's immaculate cello and Gholson's superlative vocal phrasing). Anyone who remembers that day would have to be dead to not be moved.
Mank revisits his hometown of Baltimore in, not surprisingly, Baltimore, a reflection through time. Have any of us not, at certain times, floated into the past, heart throbbing with memories never to live again outside of our hearts and minds? Hot summer days, thrumming of the Bethlehem Steel Mill, childhood friends, high school sweethearts, family gatherings--- all of these and more are part of the song and, more to the point, Tom Mank himself. I sigh, but in a good way.
While Blue Train was inspired by Mank's view of the Bohemia of the 1920s and 1930s, it is more than that. Mank has this idealistic view of the past, whether he knows it or not, and never moreso than on this song about riding the "blue train" from London to Paris (yes, there was a train which was ferried across the channel during that period) and then on to the Riviera where passengers could experience its beauty. That was an era all to itself in the art world and is presented here in aura if not in fact.
Mank says Green Church is about his own move back to the land in the 1970s. He invaded the woods of Central New York and communed with nature as best he could. In the song, he updates the experience to include what he calls the new "off the grid" movement among young people. Not surprising when you know that his day job is as an Environmental Engineer, the seed probably planted in those woods where he lived in his own self-imposed exile. It is acoustic blues and the musical guest is tuba player Dave Unland. If you think the tuba can't work, you would be dead wrong.
Paper Kisses takes another light step into the blues, a tune about old pictures and letters, recently uncovered. Smolen takes the cello over the edge with musical statements you can't help but love.
Speaking of Sera Smolen, she contributes one composition to the album, as she seems to do to each, this time dedicated to Chief Luciano Perez. Titled Eagle Feather, it is a triumph of composition and improvisation for solo cello, something at which Smolen excels. This time, she stretches out a four-minute-plus musical tribute to Native Americans--- I say "stretches out" because many of her solo works are much shorter. This is done so well, it still seems way too short.
Mank brings in Jennie Lowe Stearns to help with vocals on Crooked Moon, and Mac Benford for his banjo. One listen and you won't ask why. Stearns serves up a haunting serving of wow and Benford grounds everything with plucking too good for a chicken. Music from a world of the past seen from the present.
This is a big step forward for Mank and Smolen in that it is the most cohesive effort to-date. The feel, the aura, the music--- they all inhabit one point in time, or so it seems. Mank has grown exponentially as guitarist, Smolen steps out of the background a bit more (which makes a huge and positive difference), and the contributions of the "guest" artists are somewhat minimal and yet crucial. Pulled together by the musical vision of Mank and Smolen and the legerdemain of producer Julie Last, Paper Kisses hits the mark and will stand on its own long after Mank and Smolen have recorded their future projects, of which I hope there to be many. What I'm saying is, it is no wonder Mank has put his last two projects into Last's hands. It is in the grooves.
Supporting the Indies Since 1969