TED PITNEY
The Genesee EP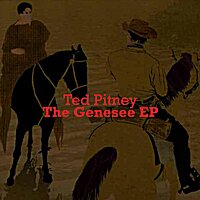 Chalk up another winner on Charlottesville's scoreboard. True, is not a Native Son, but he has been in the area long enough to be considered local and, hell, it's not like Charlottesville hasn't taken in huge numbers of non-local musicians and made them its own. There aren't enough fingers and toes in the State of Virginia to count the musicians in the town and if you tallied talent by weight, you would just have to guess, something akin to counting jellybeans in a Yankee Stadium filled to the brim.
Pitney made his way to C-ville a number of years ago, trekking in with four others from the distant Kenyon College in a search for the Holy Grail that is bluegrass and a year later, King Wilkie was born. Eventually, that band went from splitting time between C-ville and New York City and finally settled in NYC. The move was not all to Pitney's liking and for a time he heard Charlottesville calling and back he went. He played around, supporting others and being supported in turn. He teamed up with Sarah White for a time and played on her impressive Sweetheart EP. The whole time he was playing and writing and, while not exactly waiting, waiting.
I was waiting too, though waiting unaware. The Sweetheart EP had planted a seed and it grew. And as it grew, I waited. I wish I could say the wait is over but this five-song EP is hardly enough and I find myself waiting for more already. Even throwing in the five outstanding tracks on the White EP doesn't help (though I do have to thank Pitney for the push--- I had forgotten how really much I like it) and I find myself in the strange position of jonesing for a Pitney fix before I'm even hooked (though judging by what I just wrote, maybe I already am).
You see, The Genesee EP scratches an itch which seldom gets scratched these days, that of the Jackson Browne/Pure Prairie League ilk. I hanker for smooth folk- and country rock-oriented tunes of exceptional quality and have since the days of Cowboy and PPL and Heartsfield. Pitney fills that void while adding his own touch. He leans toward the harmonic edge, and I mean edge, pushing the music in directions you might not recognize but will soon crave. He arranges with master's touch, slipping instruments in and out of the mix, always to the betterment of the song at hand. He can sing and he can play, his guitar sure and steady, his voice both gentle and strong. Of course, his work with and has already established that.
The music? Outstanding. From the first strains of Thirteen Falls to the last strains of the Jackson Browne-tinged light rocker Power Lines, Pitney pieces together the best of all he has learned about keeping music honest and true. If you have doubts, listen closely to my favorite track (of the moment), October Fire--- to the blending of voices and instruments, of Jackson Browne and Craig Fuller and The Band, of Ted Pitney and King Wilkie. Then follow it up with the easy rocking In & Out of Place. If you can hear those without being moved, I declare you officially dead.
He is hardly alone here. He put together a superb group of C-ville and thereabouts musicians and the result speaks for itself. He brought in the Two Brians (Chenault on guitar and Caputo on drums), stalwarts on the C-ville scene and topnotch players. Jake Hopping handles the bass and banjo (and very well), and Dana Radcliffe slips in and out on keyboards as needed. And there is White, giving the background vocals just a bit more depth. It is a group top heavy with talent and put together for a purpose. They serve that purpose and serve it well, indeed.
But these are only words, my friends. The truth is in the music. Why are you even reading this? You should be heading to to listen. And buy. It is a small price to pay, especially considering that if you are at all like myself, you will be listening to these songs for some time to come.
Frank O. Gutch Jr.
Supporting the Indies Since 1969