TERRY QUIETT BAND
Their Pound of Flesh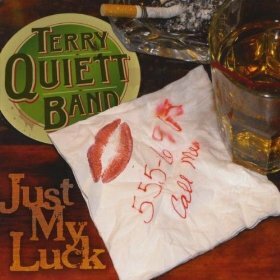 I have to laugh. The Terry Quiett Band must have seen me coming and pulled out all the stops to make me a fan, starting Just My Luck with outstanding jazzy bar blues with cranking guitar break which, when played loud (my favorite level), pumps life into me whether I like it or not and, man, that organ! Add the solid but light drums (you don't even notice they're there until the end, which says a lot about the jazz-influenced riffs of Rodney Baker) and the rolling bass of Aaron Underwood and you have a core upon which to build, my friends.
Build? You bet. They may be a hard-working trio, but they do not always play or record as that. Six of the thirteen tracks on Just My Luck feature the keyboards of guest artists Rick Steff and Beau Jarvis and though I know that the trio could pull it off, I am thankful for the keys because when handled as masterfully as those two, it takes the music into another dimension. Jarvis hits the piano hard and Steff--- well, what can I say except that I have been a huge fan of the Hammond since I was a kid and discovered those wondrous whirling-horn speakers. If Steff isn't playing a Hammond, it is a keyboard sound based on the Hammond and, man, he makes it sound!
Of course, it doesn't take much for me. I've had the bar boogie virus for years, having picked up on bands and artists like Eric Quincy Tate and Roy Buchanan and Stevie Ray Vaughan early in their careers and, no, Quiett's guitar does not quite capture them--- exactly. He treads on their turf, though, for short and sometimes intense moments, and that is enough for me. Especially when the trio plus keys drive home the beat.
Favorite tracks? Sure, if I have to. Karma, the aforementioned beginning track, has a jazz riff, upbeat and rock, which makes me bob my head and tap my foot and downright makes me high when Quiett's guitar takes off. Getting Through to Me reminds me how much I miss Stevie Ray's licks and makes me thankful for what he left us. Pound of Flesh is down and dirty, the slide work on the resonator guitar distorted just enough to make it attitudinal. And then there is Big Man's Boogie, a look toward the blues--- as is, we used to say way back when. Quiett may be from Kansas, but he knows Chicago.
Blues players' albums cross my desk probably more than those of any other genre and I have to tell you that they have to be special to get me to listen more than once. The Terry Quiett Band has me listening a lot. Makes me wonder what else is hiding in those Kansas fields.
Frank O. Gutch Jr.
Supporting the Indies Since 1969