RIVER ROUGE
good god, i'm feelin' so alive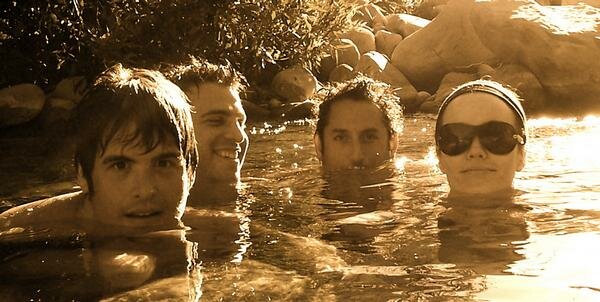 Man, these guys must have seen me coming. You know how every year the media parades songs out like they are God's answer to summer? Well, I found one. Not only did I find one, I found one which kicks butt on any of the so-called summer anthems lauded by the music press over the last decade or so. You need more than Beach Boys harmonies and a hook to dent these ears, by God, but River Rouge did it and on the first listen! The song is Black Licorice and may be somewhat of an anomaly on their new album, Not All There Anymore, but the rest of the album is solid, making this the sleeper of the summer or maybe not. I could see it being one of those deserving albums which outperforms expectations. It could happen. It is new. Let us see.
But about Black Licorice. I remember feeling the same way about it as I once did about The Sir Douglas Quintet's She's About a Mover, swept up in the shuffling rhythm and hooked on the vocals first time through. True, Black Licorice does not have the signature organ, but River Rouge substitutes brassy rhythm guitar and it works beautifully. Tossing in a primo sax solo at the bridge pushes it up a notch and, man, those lyrics! They are an upper and a half and reek of summer and it's sweet smell of hope and life. I mean, the lyrics on the whole album are exceptional, but it seldom gets as good as this. Lines like "Things I used to hate are now the things that I enjoy" and "I don't just play guitar, I've got magic hands" and "Now I'm hungry to survive, Good God I'm feeling so alive, Give me those keys I'm gonna drive" and "Things I used to hate I love now that I'm a man"--- hell, the whole song is loaded (you have to hear the lyrics with the music to understand how really good they are) and variations on a theme. By the end of the song, first time through, I was sold. When I was a kid and I couldn't get a 45, I bought whole albums for lesser tracks than this.
They follow Black Licorice with a string of rockin' Americana-ish songs, some having the edge of The Band, some leaning toward early Poco and maybe the Eagles, and I think I even heard a little Wilderness Road in there for good measure. Don't misunderstand. They are not covering those bands, they just have a style which on occasion trips around the circumference, if you will.
As for the rest of the album, Murder of the Crows stands out for its depth, the harmony vocals and arrangement taking it over the top; Not All There Anymore is a slower and more acoustic River, eerie harmonies flowing past almost in retrospect; Railroad Ties steps more into the traditional side of Americana; and Yes sounds a lot like what The Band could possibly be doing had they stuck it out.
Another good thing. The album is not overproduced. I say this because one thing I love about the Indie movement is the artists' reluctance to layer sounds to the point of absurdity, a trait which might not be bad in some instances but not here. You get River Rouge on Not All There Anymore, simple and straight forward. I dig it. And I dig that the guys had more than just Black Licorice. Too many albums over the years have ridden the wave of one good track. River Rouge gives us plenty and I'm hearing them all. Four times through yesterday when I drove to the Coast. Twice already today, preparing for this review. It is, after all, summer and every time I hear Black Licorice, I feel it. Like head Rouge, Andre Comeau (who wrote and sings the song), I too am feeling so alive. River Rouge. I think in English it means "Life Is Good".
Frank O. Gutch Jr.
Supporting the Indies Since 1969