SARAH WHITE
I Didn't Want to Lose the Discount...
Actually, her exact quote was ?I didn't want to lose the $500? and it goes to show you that the simplest thing can make the biggest difference. The difference in this case is Sarah White's latest and best recorded effort to-date, the very impressive Sweetheart EP--- five songs which could have as easily been thrown to the wind but for a discount coupon. Actually, four, because Sweetheart, the song, had already been written into history as leadoff track for Sarah White & The Pearls' You're It EP, but we get ahead of ourselves. Let us start from, well, not exactly the beginning, but...
Sarah grew up in West Virginia and emigrated with her family to Charlottesville while she was in Junior High. After graduating high school, she traveled a bit and then enrolled in college, preferring the hometown University of Virginia to out of the area institutions. While at UVA, while acquitting herself nicely with studies, she slowly immersed herself in the music scene. To that point, she played, but not really publicly.
?I grew up learning Emmylou Harris and the Louvin Brothers and bluegrass and stuff like that just from my parental musical heritage,? she said. ?By the time I graduated, I had started listening more to rock music and hanging out with rock-oriented people. I was listening to teen beat bands and pop music. That eventually worked into playing in an electric band with a guitar player and drummer. We called ourselves Miracle Penny and played rock & roll-y pop music. We even recorded a CD. I listened to it recently and, in hindsight, I see that maybe I had ideas or some memorable phrases or something, but it's a little hard to listen to. We didn't spend a lot of time making a good recording. We just let things fly. I hear it now and I go eeewww. It's the kind of thing you would be way more perfectionist about as you take yourself more seriously. Just singing and little things. Mistakes. Of course, I don't think of Miracle Penny as any kind of pinnacle. It was more like baby steps, trying things on. It probably wasn't my natural style, which I still haven't really discovered. It was more absorbing music and ideas from the people you were playing with. Still, we were young and so excited to have a CD. It was right after college and we did it for about a year, but it was more of a fun, social thing. It never occurred to me that we could really do anything with it.?
Social it may have been, but it laid the groundwork for more recording. A Charlottesville radio station, WTJU, grabbed hold of a track from Miracle Penny's CD and played it somewhere between a lot and relentlessly.
?One of the Miracle Penny songs was #1 on WTJU for a week or something like that, to the point that Darius Van Arman wrote a kind of jokey letter (which I still have) to the staff. It said something like, I'm writing this to please tell the deejays to stop blasting this song every morning. It's driving me crazy.?
College behind her, Sarah decided to put Miracle Penny and Charlottesville behind her for awhile as well.
?My best friend from childhood was in San Francisco about that time. Her father is an amazing musician named Bob Martin who had had a record on RCA back in the '70s and who has been putting out a record every ten years since. He was an early inspiration and was friends with my parents. Tammy, Bob's daughter, and I were like hippie kids growing up together. So I went to San Francisco to see what was going on.
?It turns out it wasn't much. I got an awful job at a law firm to pay my rent. Hi, San Francisco. While still in Charlottesville, I had been recording some things on a four-track. Just dabbling. I continued doing that, but otherwise didn't get involved in anything musically. I think I played three shows the whole time I was out there.?
Those four-track recordings did not go to waste. Sarah had heard that Darius Van Arman might be starting a record label and, on a whim, sent him a cassette tape of her demos. Van Arman surprised her by transferring the music directly onto a CD and releasing it as an album. All My Skies Are Blue, rough though it was, brought Van Arman's label's total at that time to three. (Jagjaguwar has since become a major indie label , housing artists such as Okkervil River and Bon Iver, among others)
?I was in San Francisco when that came out,? remembers White. ?I had never lived in a city, so there was a lot to explore. I was having a blast, but I wasn't playing.
?Tammy worked for Bill Grahams Presents, so we were blitzing the studios. I saw virtually every show at The Warfield and The Fillmore in those days. Mostly, I was seeing shows of my favorite music, but there was a young band named Mumblin' Jim that I liked a lot. They were a fun pop band from Canada or someplace like that. Tammy hired them for a birthday party. I still have their cassette, but I have no idea what happened to them.?
Eventually, the Bay Area began to take a toll. The day job became more and more irritating and a sense of urgency began to build. White knew she had to do something.
?I left because I knew it was time for a change,? she explained. ?I just didn't know what to do with my life. So I came back to Charlottesville and went to graduate school. That was the Summer of '99, I think.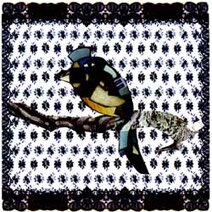 ?It was also time to make another record. I recorded that album (Bluebird, also released on Jagjaguwar) in Virginia, realized that I missed San Francisco and went back there. As soon as I got there, though, I knew that was over, so I turned around and came back home.?
The American Studies program awaited and she dove back into school.
?UVA didn't have their own American Studies program,? White pointed out, ?so I entered one housed under the English Department. I received a Masters in English in 2003, but it wasn't a Masters like the people who earned a Masters in English. My program was only a year long. Right after, I started reconnecting with people and started to play out and met up with the guys who became The Pearls.
?Steve Ingham was an old high school buddy and I'd known Jeff (Grosfeld) from the Miracle Penny days. He had been in a band called Pro Rock S. While I was in San Francisco, Steve and Jeff had formed a band known as Holiday Inn and played a lot at this place, Tokyo Rose, which was a sushi restaurant in Charlottesville. They had music in the basement and when I hooked up with Steve, we started playing there, Jeff joined us and everything just evolved. In fact, I think the very first Pearls show was at Tokyo Rose.
?We were together because we were friends. We'd get together every Tuesday night. When we started playing shows, people reacted favorably and we thought, hey, this is fun. It was so much fun that after awhile we decided to record.
?I was hanging out at the C&O one night with David Sickmen, who used to be with the Hackensaw Boys. He introduced me to Eli Simon, a member of another band, Bottom of the Hudson, and he offered to record us. That was the seed of You're It, our little EP (or demo). We had no budget nor time nor money, nor did we have ten songs, so we recorded five. I didn't know it at the time, but You're It turned out to be a warmup for a later album, White Light.?
White Light was two years in the making, though they began working on material right away. It was a difficult time, what with families, day jobs and money constrictions.
?That whole period, we played,? said White, ?if not around Charlottesville, then in Richmond or D.C. It was always a little hard to get out of town and I wasn't the best booker.
?In the meantime I met Rod Coles, who had a studio in his house, and we started working with him. When we began recording, we tracked it all in three days, but it took a year to finish vocals and overdubs. We could only do it at night or on weekends and Rod had another record he was working on at the time. And there were always little things I wanted to do over. I'm not the type who can just go in and lay something down and say, okay, that's it. Next. I would listen closely to what we had done and then say, hey, we want to add this here or do the vocals different or some other thing.?
After the album was completed, White made a couple of calls.
?We needed a label, but what I think I really wanted was distribution. I knew this guy who owned Antenna Farm Records. I had met him at South X Southwest in 2004 and I called him and he was willing to put it on his label. I didn't really have to pitch the album. He just took it.?
Not long after the album was released, Ingham moved to Italy. White and Grosfeld did a few shows as a duo, just bass and guitar, and added a drummer for a few more, but the momentum was gone.
?I wanted to go out of town more,? White explained, ?and the guys were less able to do that. If I wanted to go out and play more, with no expectations of wealth or fame, I thought I needed to do it on my own, just for the ease of it. It was a scary thought, but I thought it would be a challenge. I started doing more shows solo just to try to get comfortable with it.
?It wasn't so much a disbanding of The Pearls as a shift, for me. Jeff is still one of my favorite musicians and he's a great guy to play with and hang out with. I would love to do more with him, but we always have trouble finding drummers. When Steve left, though, a little bit of the feeling just wasn't there anymore. I know that you can just plug in people and they all have their different strengths, but The Pearls were so much fun and we were such good friends. When Steve left, I wasn't as married to the idea of it anymore. I was willing to look at other ways to go.
?Playing solo is a different ball of wax. Sometimes it is more fun because you're more in control. You're the one holding it all together and that can be a good feeling. It can also be a very lonely feeling, but I thought that was what I needed to do, pragmatically.?
Her solo career, fortunately, was short-lived, although she says she will play solo whenever the situation is right. I say fortunately because she met Ted Pitney, a guitarist well known for his work with King Wilkie, and solo became duo.
?I had met Ted before and knew him from King Wilkie,? she elaborated. ?I had opened for them twice, solo. One night, he came to one of my shows and handed me his number and said, if you ever want to play... Funny thing is, I had emailed him the week before saying the same thing, but he had not received it. He came over not long after and we played some of my tunes and worked on some other things. It was good. I had some shows coming up and asked him to join me. We played our first show in November of 2007. In January, we recorded the EP.?
Sweetheart Redux
?We did the Sweetheart EP because I had a discount at Oasis. I won this Mountain Stage contest in September and got $500 off of any CD production there, but it expired February 1st. I didn't want to lose the $500, so Ted and I decided to record. There was no label to worry about and we were just going to send it out for promotion and booking and maybe sell a few at shows. It was no big deal.?
It was a big deal, though, in a way. Pitney's guitar style gave White's music a new dimension. Tossing genre aside, the duo let the music speak for itself.
?Sweetheart is the only song on the EP that had been previously released. I won't talk about the previous version (from You're It), but there were some things I really liked about it. It is nice to have a sweeter version of the song. When we played it with The Pearls, the song seemed to have a certain power that drew people to it. The new version is a little more spooky, a little more dramatic and, I think, a little more powerful. I think the vocals came out better and I love the addition of the guitar. I don't think it lacks anything from not having a bass because it's a song which only needs a guitar. You add a few sweet licks to it and it's done.
?I used to play Ply Me with The Pearls and we laid down basic tracks during the White Light sessions, but they got left in the dust. We did finish a version of Where You're Going, but left it off the record.
?As for the EP, I loved it. Now I love it. But it is what it is. It's not like it's a full-length album or a huge master work, and it is certainly not my life's culmination. I would at some point in my life, though, make a record I could point to and say, that's the one, you know? The perfect record. Sweetheart is not it.?
What it is, according to a handful of critics, is a step in the right direction. Whether it is the addition of Pitney or the years and miles traveled, this Sarah White is a more soulful Sarah White, more confident in herself and her music.
As regards the live shows, they are a work in progress. The playlist was limited at the beginning, but is expanding.
?When we first played, we played the songs from the EP and some from White Light, the ones that easily fit into the duo format. Ted plays electric when we play live so the music has a bit of a rock edge, some are a little bit country and others are more folk. I don't know what to call them. People say that I need to put a label on my music so I'm more marketable, but I've never been able to do it.
?We have to keep our radius somewhat small. Unless you get to a certain level, you can't go too far unless you have some press. I don't expect everyone to know who we are.
?Right now, we're working hard on our live show. It's getting a lot better. I look back to when we played in February (2008) and I thought what we did was great then. Six months on, we're looking back on the old shows and thinking, God, what shit.?
Harsh words, but Sarah White is her own biggest critic. She has that gene which strives toward perfection without even knowing what it is and it both helps her and hurts her. Progress is a hard road when you're living too much in the present. White is learning that and much, much more.
Thoughts of the Past and Future...
The White philosophy could probably be formed into tenets, but that might be more myself than her. We finish with a few quotes on a variety of specifics, all of which give a better view of where she has been and where she is probably going. One important point to keep in mind is that her music is always a work in progress and she holds it so close that she seldom notices the changes. Here is what she says on a number of topics:
Organization--- ?I've never been--- and I have to stop talking about myself in this way--- very organized. I am not business-oriented. It is always haphazard, but I am trying to start a new phase. I'm trying to make my plan, my pitch, and write it all out. It's easier to get things done and get other people involved if you seem like you have a goal.?
The Next Project--- ?I need to start looking around or at least trying to think of people. I'm not that far into it at this stage, but Ted and I have already started working on fleshing out some new stuff. We're getting new material ready and I need to start looking at who we might want to work with and where and how.?
Songwriting--- ?You want to think it's organic. It might be. It could also be that one band does something and then everyone else starts doing it. Like patterns or trends. It could be that all of a sudden, old-time music is cool. I'm not trying to be cynical, but there are always waves and trends.?
Performing Live--- ?There are always nerves, but some situations are better than others. I usually just try to have fun. I'm usually more nervous when there are fewer people than when there are more. And I don't like playing during the day. There are fewer situations I find more awkward than playing at noon.?
The Business--- ?For White Light, I think what I really wanted was distribution. In this day and age, I'm not even sure what that means. I mean, what do you need? A label? Distribution? If you really have your shit together as an indie, you really don't need that stuff. You just need to put it out there and make it available.
?I'm famously unaware of sales. Last time I looked, I think I got 25 bucks and before that, another 25 bucks. And I can't think peer-to-peer file sharing is hurting me because I'm not winning. For me, if someone is getting it and I'm not getting my 99 cents or my 12 cents for it, it's not hurting. People download, but it's not like I'm getting screwed out of enough money to feel like I'm missing out.?
The Music--- ?I'm not sure where my music fits in. People talk about traditional Virginia music and I can sit down and cover a bunch of Carter Family songs, but that's not what I'm writing when I'm writing music. That said, I do think it informs the music I write because that is the music I had been playing or grew up playing and listening to.
?You take all that cracker upbringing and have a little bit of punk in you, go to poetry school and the start writing, put it all in a pot and you end up with something people think is a bit different. Or not different. Maybe it's so familiar that you don't even know what it is.?
Time--- ?I'm always thinking, what if I had nothing to do all day so that I had time to work on whatever I wanted and maybe experiment. I've always wanted to learn piano instead of just plunking around by ear. You know--- really delve into something. That could really change things.?
The thing is, change is in the wind and has been from the beginning. It has been quite a ride from the young and idealistic Sarah White who played with Miracle Penny to the Sarah White today, and obvious that lessons were learned along the way. The music may work its way out in a similar fashion, but it is somehow different. That's progress. In a good sense.