IAN SIEGAL
Striking the Groove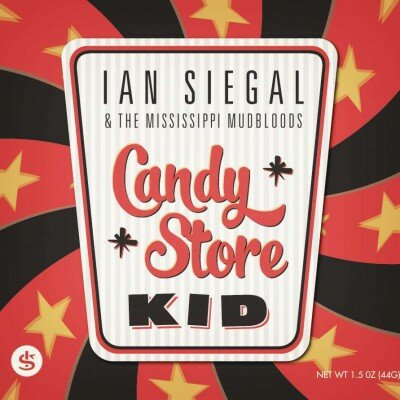 They drink more than swamp water down in Mississippi. How do I know? I just finished listening to Ian Siegal & The Mississippi Mudbloods' Candy Store Kid and that ain't just swamp water they're sweating out. It's one whole lot of attitude, an extension of the attitude Siegal and The Youngest Sons developed on the excellent The Skinny album (Nugene NUG1101) last year. They rock. They roll. They choogle. They pray. They do everything many blues bands down south do only they do it with more flair and more attitude. In a word, Siegal rocks. In more words, so do the musicians who seem to really enjoy playing alongside him. I mean, they're having fun!
Who are they, you ask? Let's start with Cody Dickinson (who also produced) and Alvin Youngblood Hart. Never heard of them? You have if you know anything about southern blues because they are two of the best. Add to them the likes of Garry Burnside, Robert Kimbrough, Rodd Bland, Andre Turner, DuWayne Burnside, Luther Dickinson, Lightnin' Malcolm, Stefanie Bolton, Sharisse Norman and Shontelle Norman and you have one powerful cornucopia of amazing. It's like taking the best of the South and slow cooking it until the mix is just right.
First thing I thought when I heard each of these albums was ?blues.? Swear to God. First thought. Didn't take long to add a few thousand other thoughts to that because what Siegal does is not just the blues. In some places, it's anything but. I hear Stevie Ray Vaughn and a handful of white boy blues guitar players in Siegal's guitar and I hear solid R&B and Soul and Gospel in everyone else. Siegal's slightly gravelly voice works well with the sound and the sound is good! Especially when they strike a groove, which they do a lot on both albums.
Favorite tracks? On Candy Store Kid, it has to be Bayou Country, So Much Trouble and Green Power because I have always been enthralled with strong background vocals and Bolton, Norman and Norman serve them up with real class. Bayou Country, in fact, has the R&B sound which convinced me that Siegal is just as much the people who surround him as much as he is himself. Killer stuff. On The Skinny, you can take your pick, but I have a thing for Hopper (Blues For Dennis) just because of the title (and that smokin' guitar solo). I mean, it is rockin' blues--- electric!!!
It is good enough that I did a bit of research, in fact. Nowhere on either of these album packages could I find a website listed, so I searched and found Nugene Records, the label responsible for these CDs. I found a lot more than Siegal. The label has a stable of blues artists and every one of them looks to be impressing someone somewhere. I suggest a stop by the website to see for yourself. Whether you like the blues or not. Did I not say that Siegal and crew strike a groove? Where I come from, that means that they transcend genre. Where I come from, it means that the music is good. Damn good, in this case.
That's Ian Siegal, sports fans. Not that guy from the North who had a band with that Schwall guy. Siegal's Southern. You can tell. Just listen.
Frank O. Gutch Jr.