THE SOFT HILLS
Chromatisms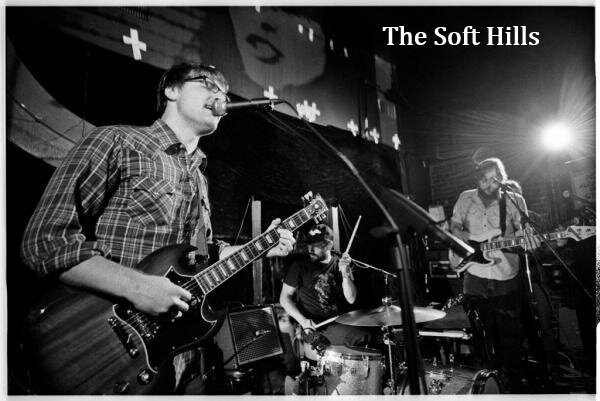 Here I thought I was onto something new when I uncovered music from Seattle's The Soft Hills but, alas, it was but another in a long line of how did I miss these guys moments I experience all too often. Soft in places, yes, but with enough movement to keep you intrigued, The Soft Hills emulate sounds--- well, the styles--- of bands from those dinosaurs The Moody Blues and Pink Floyd to the virtually unknown UK band Byzantium to the present day lesser knowns The Georgian Company and The Soundcarriers. Perhaps the last two are in my mind, The Georgian Company having a slight Country tinge to their works (as an example, follow this link to a song from their excellent Side A EP which is a name-your-own-pricer, btw) and The Soundcarriers being all over the map with their unique modern psych, but there are sound connections. All of the above rely on melody, harmonies and space and all of the above cross the line into psych to varying degrees. All are also among my favorites, though I have heard the Moodies and Floyd enough to last ten lifetimes.
So anyway, I was negotiating my way to some music I was going to review a few weeks ago and came across this link to a track by the Hills. Seeing that a good friend and one I trusted when it comes to music had endorsed them, I clicked. Needless to say--- I mean, I am after all writing about them, yes?--- I liked what I heard. Enough to contact them for a file on their latest album, Chromatisms. Enough to research the rest of their music as posted on their Bandcamp pages. Enough to make me wonder why no one had mentioned them before. I have lots of friends in Seattle. Most of them know what kind of music I really like. I would have thought that at least one of them would have passed along a hint. I don't know. Maybe they did. Maybe I thought what I was doing was more important. People tell me I can be an egotistical bore sometimes. More than I like.
Luckily, I didn't really miss The Soft Hills. I just came late to the party. Not too late for Chromatisms, though. I can chime in in a timely way and my chimes are ringing positively. Is it good? I love it. There is a hint of Byzantium and The Winterpills which rises to the surface here and there that keeps my beneath-the-radar interest while the main themes ring as true as The Moodies ever did. It is refreshingly beautiful in spurts and downright pleasant throughout.
Here's the deal, though. I did my research and found that they have three other releases on Bandcamp, each one as good as Chromatisms. Each one, a winner. Each one, an album worth hearing and, for hopefully more than a few, downloading.
Tell you what. You should be listening and not reading. Keep in mind that if I didn't think these guys worthy, I would not be writing about them. Consider these links to each of their albums/EPs a reverential nod to their music.
Painted World (2008)
Noruz (2010)
The Bird Is Coming Down To Earth (2012)
Chromatisms (February 2012)
What did that famous guy say? A song is worth a thousand words? These are are worth quite a few thousand words, then. The truth is in the grooves.
By the way. Chromatisms? Not as soft. You're welcome.
Frank O. Gutch Jr.