LOST IN SPACE
The Epic Saga of Fort Worth's Space Opera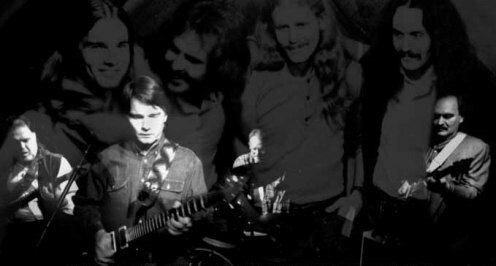 A FOREWORD, OF SORTS...
I have to laugh when I think of how many people, including those in the music industry, considered Space Opera one of Canada's best rock exports. It is understandable, as the only information on the jacket and inner sleeve besides lyrics and personnel had to do with mixing and mastering (Crystal Sound, Hollywood) and recording (Manta Sound, Toronto). The natural assumption was that the band was Canada's own, for who outside of Canada would go out of their way to record there? How little we know.
For three decades I labored under that assumption and only recently was it pointed out to me that Space Opera, that Canadian band which rivaled anything that country had ever produced music-wise, was not from Canada at all but from Fort Worth, Texas. After serving myself up a major headslap, I began to wonder how such misinformation could survive three decades without correction, especially amongst those of us who wear our music on our sleeves, to borrow an old 'heart' phrase. Put simply, I asked myself how a band as excellent as Space Opera could remain that far below the radar for that long.
In the search for that answer, I uncovered a story of a true band of brothers. The four band members forged a bond as strong as that of blood which carried them through three-plus decades of writing and recording, the release of two albums (one major and one independent, released decades apart) and numerous triumphs on various stages. Their run involved names such as Major Bill Smith, Edd Lively, T-Bone Burnett, Kris Kristofferson, The Legendary Stardust Cowboy, Clive Davis and others. Big names. Huge names. But as you read on, you realize that the most important names are their own, individually and collectively.
You see, these guys were all about the music. Still, few critics really got them and the fans--- well, they were loyal, if nothing else, because it was obvious that what mattered to the band, first and foremost, was the music. So here is the heretofore untold story of how and why they made it, mostly in their own words. It wasn't always easy and sometimes it was a real struggle, but to the four who made it, it was well worth it.
And for those who prefer the legend that never was, let us just say that here is the story of Space Opera, the band from Canada's southernmost province: Texas.
IN THE BEGINNING...
... there was music, and in Texas as early as the thirties and forties and into the fifties and sixties, there was more music per square mile than just about anywhere. Sometimes, going from town to town was like crossing borders, the music a reflection of culture as well as locality. Mexican, Oompah, Folk, R&B, Country & Western, Big Band and Swing, Classical, Opera filled the airwaves, and there were even pockets of what they called Tex-Czech music, a hybrid of polka and God knows what else, a style ultimately utilized as background music for many early cartoons. In this instance, the standing joke about Texas--- that whatever it was, Texas had more of it and it was bigger and better--- held true.
It is not surprising, then, that when rock & roll came along, it hit Texas like a string of tornadoes and changed the Lone Star landscape forever. Bob Wills may have been The Man, but the kids started having ears for Buddy Holly and Roy Orbison and, later, Bobby Fuller and Sir Douglas and a number of other Texas-based musicians, and when those ears started spending money, most bets were canceled and a new excitement began to build.
In Fort Worth, Major Bill Smith and Sound City were at the vanguard. Sound City, a four-track studio in the basement of the old KXOL-AM Radio building on West 7th , pumped records onto the local and regional scene with the likes of Bruce Channel (?Hey Baby?), Jill & Ray (better known as Paul & Paula, who struck gold with ?Hey Paula?) and J. Frank Wilson & The Cavaliers (?Last Kiss?). Major labels may not have owned the records, but they did own (in a way) the large distribution networks and Major Bill tried his damnedest to take advantage.
Sound City itself became a major player in the history of Fort Worth. Besides producing a number of hits and other recordings in virtually all genres, it was the principal sound laboratory for one T-Bone Burnett who, given Sound City's limited resources, quickly unearthed the secrets of sound.
THE PLAYERS...
It is no great stretch to say that Scott Fraser inherited his musical genes from his mother. An accomplished pianist and music teacher, she nurtured Scott in not just music, but in all arts. Indeed, she opened her house to all of Scott's musical pursuits, including his later forays into what must have seemed to her trained ear the sometimes loud and chaotic mania of rock & roll.
In Scott's own words, ?I began piano under my mother's tutelage at age four. I had the use of the finest Steinway upright ever constructed--- many piano tuners agreed. It came into my life when I was four and is with me still--- my primary and most beloved instrument. I had no interest in the guitar or drums until February of 1964 when I, along with droves of others, was inspired to learn those instruments by the Beatles' first appearance on the Ed Sullivan Show.?
He dove in head first, purchasing a set of drums and a guitar. ?The first guitar I purchased was a 12-string acoustic that was made in Mexico. It had a reinforced neck to accommodate steel strings but was difficult to play, at best. As is quite common, that difficulty was an asset, increasing finger strength at a rapid pace.?
In a very short time, Scott was ready for public exposure.
?The Mods were one of the two working bands at McLean Jr. High. I was playing drums with the other band, The Catalinas, which I had founded. When The Mods' drummer resigned, I disbanded The Catalinas and joined them. I'm not sure of the date, but there was a talent show at McLean Jr. High which was essentially a battle of the bands involving The Catalinas, The Mods and a folk group called The Journeymen, I believe. Phil and David were two thirds of that folk group and ended up winning the contest.?
?Actually,? corrected Don McGilvray, ?the two bands which played at the talent show were the Catalinas and the Continentals. Some of the people from those two bands came together later to form The Mods. In those days, the primary qualification for membership in any group was long hair and access to needed equipment. Virtuosity--- or lack thereof--- was of no particular concern. The idea was that if you had the right equipment, you could learn, or at least be shown how to play it later.
?Edd Lively's band at the time was the Continentals. He played lead guitar with Chris Hawkins on drums, Danny Hawkins (no relation) on rhythm guitar and Joe Gracey on bass. The repertoire was exclusively instrumental--- well-worn standards such as 'Wipeout' and 'Pipeline'--- and they played mainly at private parties. Although Edd lived across the old TCU golf course from me, we didn't know each other well. In fact, I had just recently moved to Fort Worth and knew hardly anyone, but I knew Scott. He and I were students at McLean where I briefly played drums with him in the school band. He had formed a similar instrumental group (the Catalinas) with himself on drums, Carey Blackwell on rhythm guitar, Ronnie Rambo on lead and Bruce Baughman on bass. I went to a rehearsal for the Catalinas one afternoon and auditioned on a lark. They took me in on the spot and we got our act together for the assembly, playing covers of the then-current 'Mrs. Brown' (Herman's Hermits), 'Tambourine Man' (The Byrds) and 'Just a Little' (Beau Brummels). The Continentals had been planning on an all-instrumental show and considered themselves a cut above the Catalinas, but we spooked them with the vocals and won that battle of the bands. Shortly thereafter, Scott and I were invited to join a new group being formed by Edd Lively. Rick Finley had a fine new Fender bass and amplifier and his equipment, along with his long hair, qualified him as the new bass player. Joe Gracey was a fine musician, but his parents wouldn't let him grow his hair.
?We were all fanatically obsessed with the Beatles and we devoured every newspaper or magazine article we could find. The British press wrote about 'the mods' and 'the rockers' in England and the Beatles were identified as 'mods', so we took that name as an homage to them.?
?The folk group I was in with Phil White,? added Bullock, ?was The Landsmen. And we weren't really pitted against The Catalinas (in the talent show) because there were separate categories for folk and rock groups. At that time, we were all just mimicking what we heard on the records we liked, anyway.?
Whereas The Beatles provided the spark for Fraser, Bullock leaned toward folk from the beginning. ?I loved pop music,? he said, ?but the commercial folk that became popular in the early sixties attracted me with its nice vocal harmonies, variety of acoustic instruments and more serious lyrical content. Plus, you didn't need to plug anything in, just get some guitars and a group of 'folks' and sing the songs. More than anything, I loved to harmonize. My turning point was around 1965 with the one-two punch of 'Rubber Soul' and 'Mr. Tambourine Man', The Byrds' first album. I heard my future in those records.?
While Bullock, Fraser and White knew one another in junior high, Bullock was to take a round-about path to rock. While Bullock journeyed, Fraser rocked and White kept options open.
When Fraser joined The Mods, his musicianship took on new dimension. Not only was his drumming solid, his skills on a variety of instruments plus an insatiable curiosity when it came to music made him a natural songwriting partner for Edd Lively, the band's lead guitarist. Fraser was quick to give Lively credit. ?All songs were straight collaborations,? he said, ?True give and take.? By the time The Mods headed to Sound City, they consisted of those two plus Danny Hawkins (guitar), Rick Finley (bass) and Don McGilvray (lead vocals).
?They had a Beatles/Byrds fixation that they wore on their sleeves,? wrote David Campbell and Larry Harrison in liner notes gracing Norton Records' in-depth three-CD collection of Fort Worthy sixties tracks titled ?Fort Worth Teen Scene?. ?They recorded their only single, 'Days Mind the Time' b/w 'It's For You', for Cee Three Records when they were only fifteen years old. The session (which also produced an unreleased cover of The Yardbirds' 'Evil Hearted You') was financed by a rich Paschal High friend.?
?The first time we (The Mods) recorded anything at Sound City, the booking was arranged and paid for by Caswell Overton Edwards III (CEE THREE),? according to McGilvray. ?Cass was a classmate of ours at R. L. Paschal High School and was apparently heir to a considerable family fortune. As I heard it, his grandfather had owned a big ranch on the SW side of Fort Worth and they had sold large tracts of it to build some very posh subdivisions. Cass liked the music scene and, like the rest of us, dreamed of making that one big hit record that would launch our careers. He was our manager and financier and through his good offices, we recorded our one and only debut and farewell single. I remember telling Scott and Edd, as they were teaching us 'Days Mind the Time', that I really liked the music--- especially the guitar riff--- but didn't get the meaning of the title phrase and thought it a bit hokey and thought we should change it. They seemed to take offense at my criticism and adamantly refused, saying it was an abstract statement.
?The technical engineer on those sessions was a man by the name of Phil York. Phil was a quiet man with patient, willing temperament. He was, as I recall, the only engineer I ever saw working there and I assume he was the technical hand on all the hit records to come out of the place in the late sixties and early seventies and that he taught T-Bone how to run the equipment. I never saw Phil again after my time at Sound City, but I later noticed his name as engineer on Willie Nelson's 'Redheaded Stranger'.
?I could be wrong, but as I remember it, there were two separate analog two-track tape machines rather than one four-track. We would 'mix down' the tracks from one machine to the other and then overdub new tracks. We also made liberal use of reverb to hide the defects in the vocals. When I listen to those old songs, all I can focus on is the thinness of the vocals, swimming in reverb.?
The single was issued in June of '65. Drummer Fraser made up an arrangement and harmonies for the rest of the band from the piano chart in a Beatles' songbook for the Lennon-McCartney number ?It's For You? without ever hearing the actual song.
?It was from a Beatles' songbook,? confirmed Fraser, ?and was not difficult (to do) once certain decisions had been made. The Beatles had not recorded the song and I had not heard the Cilla Black recording (incredibly, I heard it for the first time two years ago in 2003), so the arrangement process involved an attempt to guess what the song was like in its original state. I don't have that songbook, something I deeply regret, but it seems that the song was in E-Flat. Of course, the Beatles would probably not have written it on guitar in E-Flat except by way of using a capo, but all the published songs at that time were in the wrong key. They were being transcribed by pianists for pianists and that goal was better served by transposition in most cases. So the first thing I did was to transpose into D-Minor, where the descending chord pattern of the verse would be easily realized on guitar. I incorporated a finger-picking pattern instead of a strum and the rest was easy.?
?Fraser found the song and arranged it and literally taught everybody in the band his part,? said Lively, ?then sat down and played drums. It was ridiculous.?
Cass Edwards remembered the hoops he had to jump through to even get it recorded. ?It took some digging to find Lennon/McCartney's publisher in 1965, but after many transatlantic phone calls, we secured permission to record 'It's For You'. I am not sure they really believed that some sixteen year old kid from Fort Worth was serious.?
Getting the record to the public was another matter.
?Cee Three was my registered brand at the time (seriously--- Edwards is a cattle man) and I figured it would work as well on a label as on cowhide. Big State, the largest distributor in Texas and surrounding states, welcomed the release after paying them a visit at their Dallas offices. The manager of the Seminary South record store welcomed us for the release party, well-touted by KFJZ's Mark E. Baby, as The Mods were number one on his nightly call-in voting for months. I don't recall exactly, but it hit Billboard's Top 100 at 30-something with a bullet.?
?Days Mind the Time? did garner a lot of airplay for the band, thanks largely to KFJZ deejays Mark Stevens (Mark E. Baby) and Randy Robins (The Big R), although a rift over booking almost ended it. Not long after the 45 hit the KFJZ charts, Stevens grabbed them for his popular Teen A-Go-Go club on Fort Worth's westside.
?Stevens actually put us on the map,? said Lively. ?We tried out for Teen A-Go-Go. There were three A-Go-Gos owned by a couple of shysters named the Beard brothers who, not unlike other shysters of the time, may have been shysters on the surface but had a lot to do with funding the arts and music and so forth. When we went to audition, there was Mark Stevens sitting there, big as life. The Five Americans were there, too, decked out in Beatles suits, and a few other established bands as well, all there to check out the new groups to make sure there was nobody there to dethrone them.?
There was little chance of dethroning the Five Americans, who became mainstays on AM radio for the next few years, but The Mods tried.
?Thanks to our genius and illustrious leader--- well, kind of leader--- Scott Fraser,? continued Lively, ?we opened with 'Nowhere Man' before you could even purchase it. It was on the radio, but while it played it would say 'KXOL exclusive' every few bars so that no one could reuse it on the air. Scott had the smarts to learn it and teach it to the band, and he was only the drummer! I think we followed that with '19th Nervous Breakdown' and, needless to say, we got the gig.?
?Teen-A-Go-Go was Bohemia on the prairie,? said Fraser, ?vibrant, very progressive. Similar 'teen scenes' were exploding in cities across the U.S. And they were fundamental in the creation of the social fabric of today. Mark Stevens... had the biggest show in Fort Worth, in the clubs and on the radio.
?There were three main venues--- Teen A-Go-Go, Action a-Go-Go and Holiday A-Go-Go. Stevens, the drive-time deejay, was the host of Teen A-Go-Go. Randy Robins, the nighttime deejay, hosted Holiday A-Go-Go, and I can't recall the deejay at Action A-Go-Go, although I think Stevens and Robins would occasionally host there as well. For reasons that still remain obscure, Stevens and Robins were at odds. We had played a few gigs at Teen A-Go-Go and our record was beginning to take off. Robins asked us to play Holiday and we accepted. The next day, we were called to Stevens' apartment and were told that we would have to cancel the Robins gig or we would never play Teen A-Go-Go again. We were shocked, and at age 14 or 15 not at all ready for such eccentric adult behavior. Teen A-Go-Go was the premier gig, second to none. Losing that venue would have been professionally devastating. We decided to go see Randy Robins. Anyone who remembers that time can attest to the fact that Robins was a man far ahead--- the coolest of the batch, by far. Without explaining what had precipitated this schism between himself and Stevens, Robins made an impassioned plea for us to work his gig because there were many kids in town who could not afford the much higher price of a Teen A-Go-Go ticket and that it was unfair for all the big bands to work only for Stevens, that all the kids deserved to hear the good bands.
?Understand, Robins' gigs paid less than Stevens', but in a moment of juvenile clarity, we sided with Robins. He was charismatic and most convincing. That weekend, we played Holiday knowing that Stevens had canceled our future 'Teen' bookings.
?Over the next few weeks, thanks to intense activity by The Mods Fan Club created by a genius named Talona Phelps and far and away the best organized, most numerous and most dedicated fan club in town, our record became the most requested at KFJZ. Using that leverage and passion for justice we never knew we had, we convinced Stevens to a truce. From that point on, all bands were free to play all venues. Not a small victory for the very young and one that shaped an attitude that only grew more militant as time progressed.?
The genius behind the fan club had started it for very personal reasons. ?The Mods were one of the first bands around here that showed promise and were original,? explained Talona. ?They were eager to learn Beatles songs (and others which graced radio in those days) and were determined to get every note and harmony exactly right (having been in choir myself throughout high school, I was a sucker for their wonderful harmonies). My purpose in starting the fan club was to keep The Mods closer to home, entertaining us in our local teen clubs, as most kids from 14 to 16 did not own cars. The big plus was that, due to all of the phone calls made passing along information about gigs and the like, it got me my own phone line, long before most kids had their own phones. And it was a great way to meet people outside of our own schools.? She did, indeed, meet The Mods, who all went to a different school.
?You have to realize,? she continued, ?that back in the sixties, there weren't many places for minors to go, so when Teen-A-Go-Go opened up at the Round Up Inn (part of the Will Rogers Complex), it was a big thing for us to go every Friday night. I went to a country school that was totally shit-kickers (our term for cowboy) and it was a real drag for the half-dozen of us who were all about the music and the bands.?
Campbell and Harrison, in their version, listed the clubs as Teen A-Go-Go and Peppermint A-Go-Go with mention of two other clubs, Action A-Go-Go and Panther A-Go-Go, though their versions of the story were similar in all other aspects. ?Shortly afterwards,? they wrote, ?local independent station KTVT, Channel 11, started televising 'Panther A-Go-Go' and suddenly The Mods were on TV every Saturday night, along with Johnny Green and the Green Men.?
Fraser remembers 'Panther' being TV only. ?As I remember, 'Panther A-Go-Go' was strictly TV,? he emphasized. ?Very, very hot lights. It was filmed at Panther Hall, a now demolished but venerable facility with an extraordinary history.?
The TV exposure did a lot to help the band, but it wasn't long before the shine started to come off the apple. After hitting #1 on the KFJZ charts and #13 on KXOL (?That was a high number for a local band in those days,? commented Lively. ?Thirteen is #1 in the grand scheme of things for some zit-faced, as John Carrick so eloquently put it, kids?), The Mods as a recording group took second to the in-demand live band. After numerous gigs and the weekly TV slot began to take a toll, the direction of the band shifted. McGilvray and Hawkins left and the remaining members took to Sound City with Cass Edwards, searching for a possible followup to ?Days Mind the Time?, although they did play live on occasion.
?The Mods stayed together through about '68,? according to McGilvray. ?I left sometime in late '67 or early '68. During the time we were together, we all improved our chops considerably, especially Edd and Scott. Our sound became tight and we could pretty much nail any song we wanted to cover. I particularly recall recording the advance radio promo play of new Beatles releases and then performing them live at dance venues before they were available in record stores. That little parlor trick got a lot of buzz around the Metroplex and added to our reputations.
?My reasons for leaving were strictly personal,? he went on. ?It had nothing to do with not liking the players or the music. Rather, it was the milieu. I needed to work and I needed to have a clear head and the places we were playing and hanging out in were thick with drugs and booze. I saw myself headed in a dangerous (for me, at least) direction. I felt the need to leave that whole scene for my own survival. And, to be candid, I didn't consider myself to be a true artist. I thought of myself as having the technical ability to perform, but I wasn't really original or creative. I was only copying other peoples' work. I had the urge to perform and I thought it would be cool to be a 'star', but I didn't have the fire or the commitment to that life. The others in the group took it as abandoning them and I was pretty much ostracized as a result.
?I continued to play music and perform occasionally, but I felt better away from the ancillary 'stuff'. Of course, leaving The Mods didn't entirely free me from my personal demons. I had already begun a 'romance' with booze that lasted for another 23 years--- and eventually caused me considerable grief--- before I called it quits for good in 1991.
?Now, T-Bone Burnett (or Terry, as I knew him originally) was a few years older than myself,? he went on, ?and while he had been around the Fort Worth music scene before I came to town, we never ran in the same circles. Perhaps he had been away to college... I really don't know. He lived with his Dad on the opposite side of the TCU golf course from Edd, and we attended the same Episcopal church. He had formed a band called The Loose Ends which performed mainly at fraternity parties, if I recall correctly. They had already disbanded when I met him and he was working as an A&R man for an R&B producer named Charles Stuart, who had leased Sound City outright. Stuart had had decent success with an R&B group called Rondalis Tandy & the Van Dykes. Their hit, 'No Man Is an Island', went to the Top Ten on Billboard's R&B charts, and Stuart hoped to parlay that success into the big time. T-Bone recruited me and I signed a recording contract with Stuart's company. We recorded under the name Loose Ends, with Terry going by the name of Jon T. Bone and I by the name of Geoffrey Chaucer. We recorded several songs from T-Bone's catalog, including 'Dead End Kid' and 'A Street in Paris', none of which was ever released, to my knowledge.?
?The Mods fell apart and I was there to join at the beginning of something new,? Bullock said. ?Scott and Edd probably realized at the time that the name The Mods was outdated and we did play together at clubs, but no longer under that name.?
Bullock joined the guys in the studio as well. ?The song I remember recording was a Fraser-Lively song called 'Shoes For Sale'. It was an acoustic folk rock tune that would have fit pretty well on the Whistler, Chaucer album that we recorded a year or so later. Phil York engineered that session and Cass produced. Nothing from that period was ever released and only a couple of acetates exist.?
?(There was) no split up,? Fraser said, ?just a morph into the Whistler, Chaucer, Detroit and Greenhill configuration. The last recording session of The Mods featured Fraser, Lively, Bullock and Phil White, who had joined us toward the last. (T-Bone) Burnett came later, right before John Carrick joined the fun. T-Bone and I had known one another since 1962 and grew up in the same neighborhood, but didn't have musical contact until WCD&G began.? In a moment of wistful memory, he added, ?I have only great memories of working with T-Bone. We were kids in a candy shop. I am most thankful for that time.?
Kids in a candy shop, indeed, a thought also shared by Bullock and White. Things were changing quickly and Burnett a key player in the midst of it all.
In addition, the Space Opera acorn was planted about that time: the first ?let's start a band? talk between Fraser, Bullock and White. ?Dave and Phil had improved the approach to harmony on some song The Mods played,? Cass Edwards recalled. ?Scott concurred on the improvement and after that, those three were never far apart in friendship or music.?
CHAPTER TWO: Houston, We Have a Party (and later, a problem...)
CHAPTER THREE: We're Singers and We're Sailors
CHAPTER FOUR: The Gospel According to Bullock, Fraser, White & Wilson
CHAPTER FIVE: The Best Laid Plans of Singers & Sailors...
CHAPTER SIX: When the Mountain Won't Come to You...
CHAPTER SEVEN: I Ain't Going To Swim Here Anymore...