DEVON SPROULE
Don't Hurry For Heaven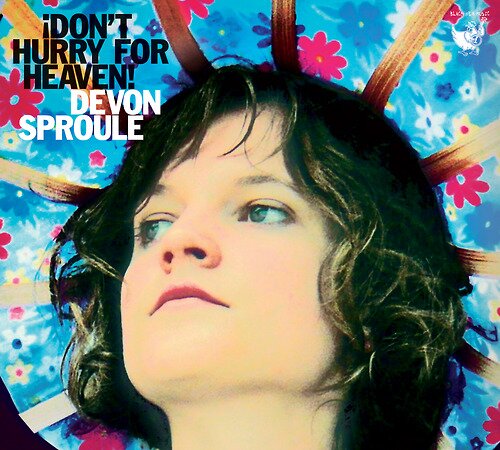 You know an album is special when it drags you into a black hole of its own making. I came to Devon Sproule's Don't Hurry For Heaven with healthy skepticism, expecting a large dose of what made her previous album Keep Your Silver Shined unique--- her ability to transcend genres and meld musical styles seemingly without effort. A step forward would be a step back, I reasoned, looking for slightly seasoned jazz folk with a touch of whatever took her fancy. What I am hearing is neither step forward nor step back. It is a step beyond.
There is both more and less of Devon Sproule here and before you tire of my qualifying every statement, allow me to explain. Musically, Sproule has grown over the years, exponentially. Her songwriting has matured way beyond what one might have suspected after first hearing Long Sleeve Story (2001) and the even more advanced Upstate Songs (2003) and, truth be told, the excellent and earlier mentioned Keep Your Silver Shined (2006), strides ahead of the earlier two. But there is something different about Don't Hurry For Heaven. The songs are not more complicated, they are just more (and less), and maybe that reflects my anxieties over the past year (the album was completed last Spring and release was held up due to complications). More (and less) what, you ask? More (and less) of everything.
More spontaneity, for one thing. The tracks were laid down amidst a string of UK appearances utilizing Sproule's backup band--- Andy Whitehead, George Vaughan and B. J. Cole. Paul Curreri, scheduled for a short tour himself, flew over a few days early to produce. The idea was to get basic tracks down and, if they were not up to par, leave them on the cutting room floor. Curreri produced and brought back more (and less) than what was needed. Tossing the impetuous aside, he chopped and added, tweaked and twisted until both he and Sproule were satisfied. By the time the album was ready for mastering, the floor was littered with session work. When that happens, my first response is usually, yeah, but what if? With Don't Hurry For Heaven, it becomes all about what is.
What is is a Devon Sproule who has never sounded better, her voice almost a free spirit, carrying songs forward at moments and happy to be a part of the very fabric of a song at others. She takes us on a whimsical jazz/folk drive with A Picture of Us in the Garden, a light rhythmic stroll on Ain't That the Way, an emotional walk in the night with Julie, and a flight just over the boundary of the Third World in Sponji Reggae. That covers territory, my friends, but with Sproule as centerpiece, it works beautifully. Genre-wise, there is no boredom here. This is a Sproule variety pack and each song worthy of its own world.
I would be remiss if I didn't mention that part of that worthiness is courtesy of an old favorite, pedal steel player B. J. Cole. I ran across Cole in the early seventies when he played with Cochise, a British rock band stretching boundaries, and have been enamored with his playing since. In keeping with the more and less theme, a small part of his work was left on that session room floor, but what remains is exceptional. He has never sounded better.
You get more and less in the production also. Curreri and Sproule made sure. After bringing the tracks back from Europe, the production values kicked in and, oh boy. One thing I learned from listening to a string of Paul Curreri albums and then asking questions was the value of a room mike. The slightly out-of-tune piano throughout Julie has to be an example of that, the sound similar to what one might get recording a piano with a hand mike in the basement of a church. The delicate and intricate guitar work behind Sponji Reggae has labor of love written all over it and the simple straight forward recording of Good To Get Out is complemented by outstanding overdubbing of harmony vocals and the occasional guitar riffs from another dimension.
And while we're at it, let's talk about those vocals. Sproule has used harmony vocals in the past (as has Curreri on his albums) but not like this. The harmonies here are not just for sound. They take the song up a notch, above and beyond if you will. The cool thing is that you hardly notice them (beyond cursory hearing) until maybe the fifth or tenth time through, and then you realize that the song could not be the same without them. Not even close. In the surgical world, you would say that Don't Hurry For Heaven is peppered with blood organs, parts you could not possibly take out without destroying the whole. And it is one whole of an album. That was a joke. Just seeing if you're paying attention.
I guess I can now scratch Don't Hurry For Heaven and Paul Curreri's also excellent California off my list of last year's most anticipated releases. Sproule's album is finally seeing the light of day in the States this month, Curreri's next month (they were released in the UK a few months ago) and should be on the shelves soon. I urge you to at least give them a listen. Click to hear Devon and to hear Paul. They are two reasons Charlottesville VA has been the center of my musical universe the past few years. Two very, very talented reasons. Buy these albums. If you are at all like me, you'll be backtracking to the rest of their catalogue, a great body of work which has just gotten a whole lot greater.
Frank O. Gutch Jr.
Supporting the Indies since 1969