?I did this homemade album, a total departure from what I had done previously. It was mostly electronic--- a lot of synthesizers. I was playing keyboards and singing weirder and deeper songs and people were saying, what are you doing playing keyboards? You're not supposed to do that.?
--- Steve Young
STEVE YOUNG
Reluctant Son of the South



Chapter Six: No Expectations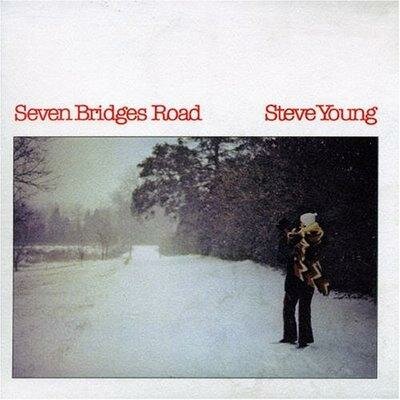 Steve Young's troubadour experience in Europe, unbeknownst to Steve, was just about to become more than a lifestyle. He returned to the States, tied up with Monterey Artists and negotiations began for the sale of the Reprise/Blue Canyon masters of Seven Bridges Road to Rounder Records.
?When Rounder showed interest,? Jim Terr recalled, ?Steve had a manager (or agent of some kind), Steve Dahl. Dahl was with Monterey Artists and was in Denver at that time working with Steve Case, who eventually moved on to Nashville to handle a number of bluegrass artists. Anyway, I was dealing with Dahl regarding selling the masters to Rounder and when that was done, I moved on to other things.?
?Terr ended up leasing or selling the masters to Rounder,? Young said. ?I had a manager then, David Cannon, who negotiated the deal with them and I just let him do his thing. I thought part of the deal was that after a certain number of years, the rights to the masters reverted back to me. Rounder, of course, denied that. Because I did not have a written contract..... Incredibly, Rounder said they did not have a written contract either. Nobody could produce one. Rounder did have letters, which was the closest thing either one of us had as legal proof. So I finally just gave up on it.?
Also included in those negotiations was a recording contract which provided for an album beyond Seven Bridges Road, but first, Rounder set to work on the newly purchased masters. The obvious move to them was to release the theretofore unreleased songs from the L.A and Nashville sessions. Some songs did have Ry Cooder on them and Rounder thought the name alone would make a difference. In the end, they also cut the total number of songs on the album to ten (the other Seven Bridges Road releases had twelve). It was standard practice in Nashville in those days to limit an album to ten tracks, so a number of tracks were dropped, including songs many critics considered Young's best (Many Rivers, I Can't Hold Myself In Line, I Begin To See Design, Come Sit By My Side, and True Note). They added The Ballad of William Sycamore, Down In the Flood, Wild Goose, and Days of '49, tracks not included on the earlier releases.. They also allowed Young to re-record Seven Bridges Road. All previously recorded tracks were remastered by Jerry Shook.
The album, when released, created a minor stir. Rounder put what little muscle they had into promotion (one must remember that in those days Rounder was a true independent and did not have the resources they had later when, say, Alison Krauss & Union Station broke out), but it did little in terms of sales.
When asked if Rounder had paid him anything for the Reprise/Blue Canyon re-release, Young replied ?Hell, no. Rounder doesn't pay anybody like me. Or any of the labels, for that matter.?
When it came time to honor the one-off deal for a new album, Young remembers being decidedly unready. Most of the songs he had were older and rather than retread old ground, it was decided that he would record hand-picked songs from other songwriters' songbooks. In spite of an exemplary track record as songwriter, Young put his head together with Cannon, his manager (and executive producer), Jerry Shook and Mac Gayden and came up with a list of possible tracks. It was a strange and eclectic mix, to say the least.
The album begins with a cover of Buddy Holly's Think It Over, gives way to an excellent version of Waylon Jenning's To Satisfy You and then works its way through songs written by the likes of Jagger & Richards, Cat Stevens and Jesse Winchester, to name a few. Young fought hard for the inclusion of friend David Olney's The Contender, a standout track amongst the others, and there was Young's sole contribution, The River and the Swan, a beautiful and floating song supported by what sounds like synthesizer, an instrument which sounds out of place in Young's otherwise true-to-the-roots world.
Young was not happy with it but, as stated earlier, he was never happy about his albums. Evidently, the rest of the world was not happy with it either. Sales were minimal. Young found himself once again on his own, label-wise. It was beginning to be a pattern.
Rounder was not through, though. They contacted Stephen Powers and re-released Mountain Railroad's Honky Tonk Man in its entirety. If it did nothing else, it put a bit of air under the wings of a lost classic. But in terms of industry standards, it did nothing, period.

While Young did not fall into a slump, scheduled gigs became erratic. He made enough to live and bided his time. Whatever else was going on in his life, he always had his music and a semblance of patience. One day around 1985, he received a phone call from Europe.
As he tells it, ?One day I was sitting downstairs in my house wondering what I was going to do when the phone rang and this guy says do you want to come and play in Norway. I said, sure, let's go. He said, you gotta play with a band here, you can't go solo and I thought, man, this is going to be terrible. Those guys can't play, you know? Not my kind of music. But I went over there anyway and this band they had lined up for my shows blew me away. I was totally amazed. It was the Jonas Fjeld Band and they were huge in Norway. In fact, Jonas himself, after that band broke up, did some things with Rick Danko and Eric Andersen, that's how good he was.
?Anyway, those Norwegian guys had this problem. Because they were from Norway, nobody would take them seriously even though they were great musicians. All of their gigs were in Norway and they were getting tired of that.
?When I first met them, they had been working on these songs. I could not believe how together they were, how good they were. So we went out and played some gigs in Norway and people came to listen and, I was surprised to find, knew my music. Some of the gigs were like dances in small fishing villages. It was an amazing experience.
?While I was out on the road with them, I got to thinking, boy, it would be nice to record with this band, just for the hell of it. A one-off kind of deal. And sure enough, this guy from Sweden who had this little label calls me and asks if I want to do a record. So I said yeah, let's do it.
?I was in the middle of the whole thing, you know? The Swedes and the Norwegians don't really like one another and toward the end of the recording session, there was a conflict between the Swedish businessman and the Norwegian musicians, but in the end it all worked out.?
That album, Look Homeward Angel, was released on Sweden's tiny Mill Records label in 1986 and saw extremely limited distribution. Young never knew if Mill had ever approached any label or distributor in the States for distribution, but he didn't really care. He was just happy to have recorded with that band.

Not long after, Young threw himself in to experimental mode.
?I did this homemade album,? he said. ?It was a total departure from what I had done previously. It was mostly electronic--- a lot of synthesizers. I was playing keyboards and singing weirder and deeper songs than usual and people were saying, what are you doing playing keyboards? You're not supposed to do that. They either loved it or hated it, there was no in-between. Most of the songs were recorded at home on a Tascam 4-Track cassette recorder, but two were recorded on an 8-track at Sky Range: Long Time Rider and War of Ancient Days. I also got a lot of help on that from Rick West, who lives outside of Nashville in Hendersonville. He recorded a couple of songs--- Only You and a version of Have a Laugh--- and he helped improve the sound on my 4-track recordings. It wasn't commercial. It was just for Steve Young. Someone in France put it out on CD in a very limited edition. The title is Long Time Rider.
?I own that master and am toying with resurrecting it. Of course, I would have to put a warning label on it--- something like this is not your typical Steve Young, so be forewarned.?
Young, never one to limit himself or to identify himself by genre, considered it a step beyond what he had done, but just another album. While he had never really considered himself country, most of his fans did and electronic may have been too much for most. Young has hinted that he may at some time release it just out of curiosity. Until that day, most of us will just have to wonder.
Note: Not too long ago, Scott Henthorn, an Australian friend of Young's, re-released copies of Long Time Rider and dropped a few off at Village Records. There may be copies available still.
Chapter One: The Long Way to Hollywood
Chapter Two: Welcome to L.A.
Chapter Three: A Short, Short Chance for Fame
Chapter Four: Fourteen Bridges Road
Chapter Five: The Light at the End of the Bottle
Chapter Seven: A Stop-Off in Austin
Chapter Eight: A Return to the Roots
Chapter Nine: A Man and His Philosophy