SWEET TALK RADIO
State of the Union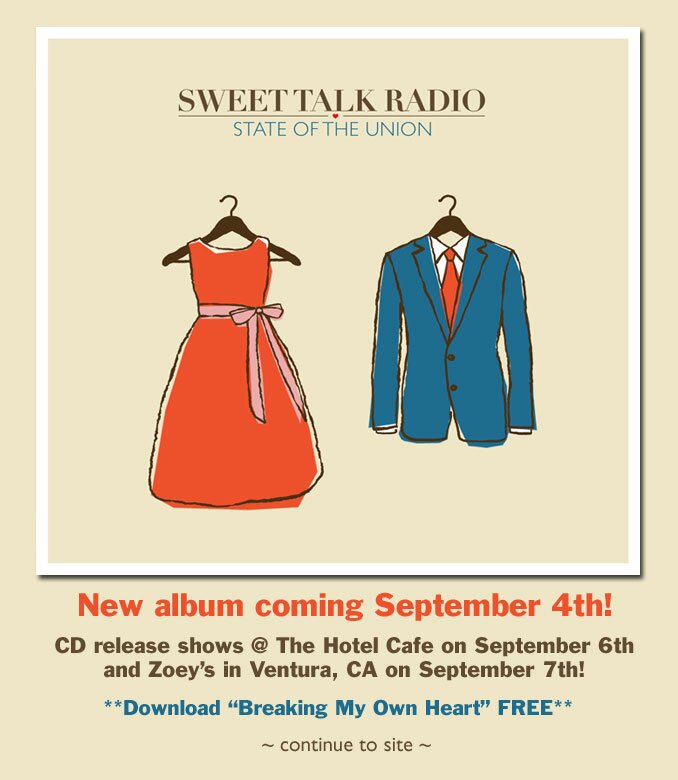 State of the Union. With an album title like that, you might think it full of songs about politics and hate and the politics of hate because that is really the state of our union these days, but it is not. I knew it wouldn't be. Sweet Talk Radio might share the frustrations and angst many of us have in terms of the deterioration of society's fabric, but they live in a state of music and where there is music, there is love. Even in music of hate, there is love if only for the music itself.
I prefer to think of this as the state of their union: That of Tim Burlingame and Kathrin Schorr who are, in fact, Sweet Talk Radio. I happened across them a few years ago quite by happenstance. I had found an EP by Atom Factory and one of the songs swept me away. When I contacted Atom Factory's Matthew Lee, he pointed toward the guitarist and vocalist who made the track what it was--- the same Schorr & Burlingame who are, I was to find out, STR. It turned out that they were at the time working on their own release and when it came out, they sent me a copy. I think I loved it. You'd better double-check, though, by reading my review. There has been a bit of water under the bridge since then--- much too much to my way of thinking--- but Schorr and Burlingame used it wisely, working on new songs and touring. They have, in fact, been working their collective asses off. State of the Union proves it.
I have to confess to a lot of love for this album. I expected something as good as the first album, My Hallelujah. I got that and more. State of the Union is a study in sounds as well as a study in performance and songwriting--- and production. I do not have a physical copy in front of me so I can't bear witness to who did what on the album, but I'm going to assume it was Burlingame and Schorr who put everything together. They had, after all, done an excellent job on the first album.
Truth be told, I would have bought this album just for the unassuming and understated guitar sounds. On the first track, Breaking My Own Heart, Burlingame throws in a few chords which really caught my ear, but only a few. He revisits the sound on a few other tracks, but utilizes it so sparingly that after a few listens it becomes pure gold. Other tracks hold surprises as well. Rosemarie contains faint wisps of Eleanor Rigby, but that is mostly my imagination, possibly. The lyrics and strings lean that way, though, and the track is solid. Lewis and Clark is a pop gem, having that light late-60s folk-rock sense to it. The harmonies almost make me laugh, they are so right on. Schorr handles her voice very well, indeed, but nowhere better than on Love To Fall In Love, another upbeat pop gem with stacked background harmonies. They step aside with a bit of uke-sounding guitar (or maybe it is an ukulele) on Dance With Me, dipping into the past for a forties or early fifties vibe.
They nail them all. Not one clanker in the bunch and all of them already deeply embedded in my head. I mean, there were some exceptional moments on My Hallelujah, but I think they may have upped the ante here. Why? I think it's the production. For some reason, this album flows, and I mean really flows.
My favorite track right now is If I Couldn't Have You. The mixture of slow pace, Schorr's beautiful vocal and Burlingame's freakishly good sound on the guitar is a magic combination. Not to mention the fact that it is just a damn fine song. If this was the heyday of radio and I had to pick a single, this would be it. Just far enough outside the box yet accessible, music-wise. Damn, but I am growing to love this song!
I've not met these guys yet. I hope to. I'll bet their performance is as good as this album--- topnotch. Until then, I'll settle for State of the Union. Actually, I would settle for State of the Union, regardless. If you like the softer side of rock, the emotional and the upbeat, you should check this out. It is smo-o-oth.
An aside: Betwixt Hallelujah and State, STR recorded a handful of songs you might want to have. Two were used in episodes of Haven, Sci-fi channel's thriller which starred Emily Rose, among others. When you visit CDBaby, click on the rotating wheel of icons beneath the "More Albums By This Artist" post. Available as downloads only, but each one well worth it.
Frank O. Gutch Jr.