KIRSTEN THIEN
Delicious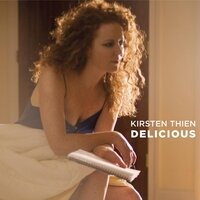 Remember when the labels put those stickers on the albums which said in large letters, "Play This Loud!"? Slap one on this. And pardon me for being a guy, but there is something about a fine looking lady, guitar in hand, fronting a blues bar boogie band that makes me wish I was young again and able to stay up past ten without plopping my head down on a counter splattered with sticky, stale beer for a quick snooze. Thank the gods that the music does not depend upon such ambiance and that I can listen in the safety of my own home or I might have missed this because it is, as the title suggests, Delicious.
Call it a guilty pleasure or chalk it up to a portion of my life spent sitting on barstools but I love this album. and producer/sideman Erik Boyd cook these songs like corporate accountants cook books (how else do you think multi-billion dollar corporations end up paying little, if any, taxes?) and the results are solid. Want blues? Thien bare-bones' it with help from the mouth harp of Billy Gibson on Ida Cox's classic, Wild Women Don't Have the Blues--- voice, acoustic guitar and harp. It works, and then some. Willie Dixon's I Ain't Superstitious is given minimal treatment as well, Arthur Neilson stepping in on guitar alongside drummer Dylan Wissing and Thien--- barking guitar giving the song a bit of the raw Cream edge.
Boyd and Thien pluck Charlie Feldman and Jon Tiven's Taxi Love from the streets of New York and give it a good ride. There is something about a choogling, steamy blues number which placates my soul. Throw in the subtle and excellent Hammond organ of Tommy Mandel and the simple but outstanding brass of Kent Smith and Andy Snitzer (arranged by Smith) and you have the makings of a (gasp!) hit? Do they have hits anymore? If they did, this would have a chance for sure and evidently I am not the only one who thinks so. Thien and Boyd throw in radio edits of Taxi Love and Thien's snarky Treat 'im Like a Man at the end of the album, true bonus material. True, they only cut Taxi Love from 4:51 to 4:04, but the difference is worth hearing. Treat 'im Like a Man, on the other hand, slims down significantly (from 6:19 to 4:02) and while it may give the song more of a chance of airplay, doesn't lose a bit of the punch. Do I mind hearing two songs duplicated? Not at all. These two songs deserve it.
Actually, there's not a track on this album which doesn't deserve it. There are multiple reasons to dig the songs, from production (which is first class) to sound (again, first class) to song choice (big thumbs up) to arrangements (as tasteful as they get--- especially the brass) to musicianship (this is as professional as it gets, my friends)... I could go on, but I will save you the time and effort. Whether you like the blues or not, Delicious is an album you should hear.
Let me put it this way. If someone put this CD in my stocking at Christmas, I would play hell to find something good enough to pay them back. Oh, and did I mention that my favorite songs on the album are original? Maybe I should write another review keying on those. Or you could take my word for it. But don't take my word for it. Check it out. www.kirstenthien.com There. Now you have no excuse. You might even thank me for it.
Frank O. Gutch Jr.
Supporting the Indies Since 1969