THE JUKE JUMPERS
One Reason I Drink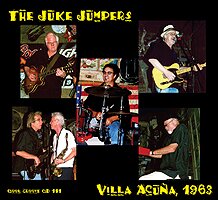 My mother used to ask me what I saw in drinking. It was evidently as big a mystery to her as it was a mystery to me why she didn't know. I grew up on music. My parents encouraged it. I played drums until Uncle Sam separated me from my set and forced me to stick music in my ears instead of a thumb in my mouth. When I got out, I hit music festivals and free outdoor concerts like robbers hit liquor stores, and when they were plentiful, life was good. When they weren't, I hit taverns.
Taverns in Oregon were their own little world back in the day (as I suppose they were everywhere) and when rock moved in and bumped the mostly country & western acts off the stage, I moved in. Most taverns back then wouldn't let you zone out to the music without paying and beer was cheap, so I drank. When the music was good, I drank a lot. In fact, the better the music, the more I drank.
To this day, there are three nights I barely remember at all, all in 1972: the nights I saw Portland's Sand at some bar in downtown Eugene, Pacific Northwest legends Notary Sojac at the Roman Forum in Glendale (between Eugene and Springfield), and Cat Mother at that same tavern that same summer. All three nights started with music and light drinking. All three ended in virtual alcoholic blackout except for that music.
That is why I thank the gods that weren't around in those days. Juke jumpin' and drinking would surely have been a recipe for alcohol poisoning, for sure, or maybe just some extreme projectile vomiting and physical ejection because when I hear their music, I smell stale beer and cigarette smoke and reach for that mug of beer that I know sometimes isn't even there. I call it bar boogie, but what they serve up is a mash of swing, rock 'n' roll, blues, jazz and country with side trips through the fifties and sixties which makes me wish I was young again. Thing is, when I was young, I'm not sure I was musically sophisticated enough to have really understood what they were doing. I would have felt it, though. When the jazzy chords, drum riffs, rolling bass and organ magic mix together, I couldn't have helped it.
Villa Acuna, 1963 is time travel through the honky tonks and dives and before I go any further, allow me to state that this has nothing to do, recording-wise, with 1963. Villa Acuna, 1963, in fact, is the title track and was recorded in 1980, evidently a leftover track from the sessions or recorded just after the sessions that produced the album that introduced me to The Juke Jumpers, Border Radio.
We interrupt this review for important information: Due an affliction acquired during my Army days after drinking Mescal in a backalley in Laredo (my eyes have since gone into lizard mode and rarely point in the same direction), I misread the liner notes on the CD (in my defense, the print is pretty damn small) and am forced by them Juke Jumpin' lawyers to make this correction: The track recorded in 1980 is not Villa Acuna but Rock 'n Roll Ruby! On the positive side, Susan Colegrove, in the process of her correction, filled us all in on a bit of fascinating JukeJumperania: The track from the 80s is Rock 'n Roll Ruby. Villa Acuna came about during the dinner break of one of the sessions. Sumter began telling a story about the TCU baseball team he was on (he was a hell of a pitcher). They were playing in a tournament near the border and foolishly decided to go to Mexico. Everyone was dying laughing and Jim said it sounded like a song, so the guys started repeating Sumter's hilarious lines and I took notes. By the next day's session Jim had written the song and they recorded it. Needless to say, TCU lost their game because they were so hungover from the trip... every pitch Sumter threw came back at him twice as hard. You ain't gonna get THAT on Entertainment Tonight! And now, back to our regular programming.
I remember the record salesman, one George Romansic, handing that record to me with a smile on his lips and I knew there was a reason because Romansic had few things to pass along to me and when he had something he knew I'd like, his lips would curl slightly at the corners. It was a forewarning that within this jacket lies music of moment (that's mo-MENT, not MO-ment, you clods). When it hit the turntable, I understood. Jimmy Liggins' Cadillac Boogie steamrolled me and I knew I was going to have fun selling this record. Not to mention the fact that the label's logo made me laugh every time I picked it up (It was on Amazing Records and it read, If It's a Hit, It's Amazing!).
But I digress. 1988's album, On Stage, later reinforced my salivating soul's attachment to the band, so when this new album came along, I popped my wet mugs into the freezer in anticipation. Nothing like the ice cold brew in frosted mugs to take the edge off. Doesn't work that way with The Juke Jumpers, though. The brew intensifies the edge. Three tracks in, first time through, I was dancing this one-legged jig and reaching for my second beer and once again, life was good. Sumter Bruton's rock 'n' roll 'n jazz swinger Pink Heart Days kicks things off and man, the way that jazzy underpinning to (I assume) Bruton's lead guitar and Craig Simecheck's wailing organ and finally Johnny Reno's outstanding fifties/sixties-style sax carries the song, I'm diggin' it. From there, it's a past four or five decades ago, hence the one-legged jig.
The best tracks, to my ears, are the originals. Sure, it's good to hear Mickey Jupp's Standing at the Crossroads Again followed by a great rendition of Dr. Feelgood (the real Dr. Feelgood and not that Motley Crue thing), but you can't beat tracks like the aforementioned swingin' Pink Heart Days, the tongue-in-cheek fifties/sixties' I Wonder What She Look Like Now, the R&B killer In Walked You (something a rock 'n' roll Manhattan Transfer might have done), or the walkin' Johnny Reno-penned Screen Door Jesus. Overall, the tracks flow from one to the other like a well-oiled relay team, baton handed from original to classic and back. You can't really tell which is which. Hell, after the third beer, you don't even care!
Musician-wise, this is one hell of a lineup. On guitars, Sumter Bruton and Jim Colegrove, slingin' Texas thrash and swingin' blues like they've been playing it forever (because they practically have). On drums, Michael Bartula, who wrote the monster swing tune In Walked You (who said that drummers other than Phil Collins couldn't write?). The bass man, Jim Milan, everybody, who lays down bass in so many styles your head spins. Next to the Axe Man, the Sax Man, Mr. Johnny Reno, a sax maniac, in fact. And on keys (and what keys they are), Craig Simecheck, bouncing from organ to piano and back like the pro that he is. God, but I love that organ sound.
In the background not because she is shoved back there but because she wants to be is Susan Colegrove, wife of the most honorable and aforementioned Cool Groove his own self. She gets the toast when the fifth beer is popped because she ran interference for me in my attempts to beg, borrow and steal Villa Acuna, 1963, prying a copy from the arthritic appendages of the guitar man and forcing him to send it with a threat of who knows what. I mean, I'd have bought it, Susan, but I can barely keep my fridge stocked with beer as it is. Speaking of beer, cruel of you to put that great shot of the Pearl Beer clock (Bottle of Pearl, please!). I've asked around. They don't have it up here.
You know what? Even though I know there are a lot of great bar boogie bands out there, I can only think of one which even approaches these guys in variety of style and quality: . Put these two bands on the same bill and I'd probably drink the bar dry. And Momma? I'll quit soon. I promise. As soon as I get my fill of The Juke Jumpers. Cross my heart.
No money has changed hands at any time during the writing of this review. May cause light-heartedness, heavy headedness and result in the one-legged jig. Do not not drink while listening to this album. It is legal to toss anyone out of your house who does not agree that this is one smokin' album, but illegal to stomp their ass or kill them, as much as you may want to. Do not attempt to pick up women while listening to the album as they tend to look prettier the longer you listen, especially if mixed with alcohol. Listen at your own risk. Lone Star, hell! Drink Pearl, if you can find it!
All Juke Jumpers albums are available at www.coolgroove.com, as are the bios on members of the bands and an outstanding history of the musical Jim Colegrove. While you're there, check out Colegrove's country outfit, Lost Country. The man just refuses to quit. Burp...
Frank O. Gutch Jr.
Supporting the Indies since 1969