TOM MANK & SERA JANE SMOLEN
The Long Road to ithaca
PART TWO: Where the Sun Meets the Blue....
While Tom Mank's personal journey through music began at eighteen when he picked up a guitar for the first time, it took wings in a hospital. Tom's heart was broken, true, but it was fixable. A small titanium valve was ready to do what the body could not--- make Tom once again whole and, as they say in the business world, viable. Thoughts raced through his mind as he walked the halls awaiting the operation, the most obvious being, what if...
Make no mistake. This was a battlefield, though within the confines of an operating room, and as everyone who has been on one knows, life hangs in the balance. If that sounds melodramatic, so be it, but the drama was real and the endgame even moreso.
The old Tom Mank might have lived the experience and gleaned what he could out of it. The new Tom Mank, though, did what he had promised himself. He put it into song. ?In a hospital,? he wrote of the experience, ?Midnight to three/Doctors get ready to think about me/The long halls look like a creeping vine/And the ceiling lights like the morning sky?. (from Almost Time, ? 1999) ?I remember walking high on a hill?, it continues, ?Watching the sunset standing still/Then down through the woods, our hearts in flight/And waltzing together by the woodstove light.? These are thoughts one hangs onto when the mere possibility of death approaches, at least as regards my own experiences. ?A cool stream running, the sounds of laughs/The far away motion where all dreams pass/The sound of children racing and crowds that roar/And the smell of the ocean on a New England shore.?
Tom walked out of that hospital repaired, if that be the word, physically. As important, Tom walked out of that hospital renewed, musically. Maybe from the outside he looked the same, but on the inside he had gained focus.
?Almost Time is one of the best songs I've written that we no longer perform live,? he said when asked. ?This was a very important and personal song for me--- probably the song that started the run of 'real' songs. On the CD of Almost Time, it is one of only three of the ten which were written in 2000 (the instrumental Margo's Garden and the lyrics to Sera's music for New Mown Hay were the others). All of the others on that album were written in the nineties and re-recorded. After Almost Time was completed, succeeding CDs all included songs which were all 'new' when those CDs were being recorded. So for me, the song Almost Time was almost a 'single' release which was followed by a series of 'full' CDs. As important, whenever I would perform it live (pre-Sera), it is one song which seemed to really move people.?
To put this in perspective, Sera made this comment: ?I didn't meet Tom again until the recording of Almost Time and didn't even know that he'd had a major heart operation at that time.? For Tom, the timing was almost prophetic.
After the release of Almost Time, ?pre-Sera? became an endangered block of time. By 2001, the two decided to try an album together and began working on what would become Conversations In Waves. Musically it was a huge leap forward, Tom's songwriting at least a full step above his previous work and Sera's cello coming alive alongside Tom's guitar and voice. One can easily hear what Tom earlier referred to as a run of 'real' songs. Two of the best, in fact, were Mank/Smolen collaborations: International Waters a look at the no man's land between the U.S. and Canada as a space devoid of country and the next track (title obscured and as long as my arm) an instrumental jam of consequence, a precursor of collaborations to come.
Writing songs may have been important to Tom at the time, but playing music with others was as important. One huge difference between the pre-operation and post-operation Tom Mank was his commitment to the musicians with whom he felt most comfortable.
?The musicians we brought into the studio for Conversations and Souls of Birds,? he pointed out, ?came from two sources: (1) The best musicians and singers I had worked with throughout the '80s and '90s--- Timmy Brown, Tommy Beers, Laura Branca, Dee Specker, Patti Witten, and two bandmates, Rick Manning and Paul Fairbanks, from my earlier newgrass band Blue Country; and (2) classical musicians--- Sera's colleagues: Victoria Paterson, Ruth Roland, Michael Galloway--- plus Danny Birch, Sera's wildcard.?
Three long years spanned the distance between Conversations In Waves and their next LP, Souls of Birds. Tom Mank had always had a sound, but that distance also uncovered a personal style. The songs, as nebulous as they at times seem to be, were more personal. A philosophy of life and the trials of life began to surface, most evident in the title track, Souls of Birds, and a long, structured-but-rambling folk/psych opus titled Big Red Moon.
?Big Red Moon was a case where the lyrics came first,? Tom explained when asked about his writing process. ?I wrote those lyrics on a plane flying back from The Netherlands the first time Sera and I went over there. Sera had fallen asleep and we were over the clouds and the sun was going down. There was this big red sunset you could almost feel. I wrote all of the lyrics on that plane and had to find the music later.
?There is an eighteen-minute version around here somewhere,? Tom laughed. ?We had to cut it down. In fact, I have a whole collection of alternate mixes. Sera, in her regular job, plays with all kinds of musicians and we thought why don't we do one with Danny Birch. In the Indian tradition, ragas have a pattern to them and you keep the pattern but improvise within it. What you hear on Big Red Moon is an 'alap'--- a free collaboration upon the raga--- as a long intro. Then, the song starts. The song was already written when we realized that a musicians' improvisation within that pattern might work with the open tuning I was using.
?Sera and Danny did a number of takes. They were in the studio for hours. I came in and recorded the guitar after they were done. In that case,? Tom elaborated, ?I played my guitar to what they were doing whereas usually the opposite happens. Of course, Sera and I had to work out an arrangement first, before it ever went into the studio.
?There were takes which were longer, too. We didn't do any chopping. We pretty much used the live tracks.?
The track ended up being close to eleven minutes in length, a flowing trickle which turns into slowly meandering river and gives way to Tom's slightly wistful vocals. Somewhat of an anomaly on the album, it stands out more for its meditative qualities than for its length.
?Souls of Birds is the only CD I've ever worked on where after it was done, I questioned it. I probably should have made Big Red Moon the last song on that CD because if there is anyone who might not be into the length of the song, it might stop them from even listening. There are some really good songs after that and if they don't listen past that song... Sequencing can make a difference in the mood of a whole CD. If it had been an LP, Big Red Moon should end Side One, then Side Two would finish it out.?
'Finishing it out' is hardly how a critic would look at it. First, Sera takes the cello on an adventurous solo ride on her Where Do You Bury a Gypsy, followed by Takes Your Breath Away, a song which reflects what was quickly becoming the Tom Mank 'sound' as well as Tom Mank subject matter (the reference is to asbestosis, a malady common in the mills around Baltimore). The groove of Whisper To Each Other, written by Tom with help on the bridge from Patti Witten, showed musical bedrock which would be developed more fully in the next two Mank and Smolen albums, Without You is as Americana as Tom gets, and it ends with Khaki and Bone- 1918, a WWI-themed look at war and its emotional tolls. These five songs in sequence are a look into the future of Tom Mank and Sera Smolen and could easily have been a true peak but for a left turn in the long road which neither could have seen.
Woodstock.....
In 2005, Tom's job required a move to Kingston, New York. First, of course, they needed a place to live and they found one quickly enough. As luck would have it, they also found a key ingredient in their musical future. Their landlady, Julie Last, had just set up a recording studio in her home.
?We rented the house right next to Julie,? Tom said. ?We plopped right down and we're way out in the woods and there's Julie. I mean, we found a place to rent and the lady living next door is setting up a recording studio. How's that for timing??
The studio is Coldbrook Studio, where Tom and Sera would end up recording their next two albums.
?When I went into her house for the first time, I saw a platinum record on her wall,? Sera commented. ?She said, very humbly, 'Yeah, I recorded Double Fantasy with John and Yoko.' I mean, there it was. A platinum record. Right there on her wall.?
?Julie had lived and worked in studios in San Francisco, Los Angeles and New York City,? Tom explained. ?She comes with quite a resume.?
The little cottage, and Julie, were godsends to Tom and Sera. To find a house next door to a musician (Julie herself had released an album on a major label titled Relics, now self-rereleased) and a recording studio was nothing short of miraculous. Tom almost felt like he'd died and gone to heaven.
?The house was Musicland,? he said rather exuberantly. ?We heard that Levon Helm used to live there and that it was used by The Band for rehearsal. There is a lot of history and lots of vibes in that house. There was a lot of music when we were there, too. Sera was always practicing the cello and I always played the guitar. A lot of music...?
As if to prove a point, he added, ?I can sometimes go a year without writing a song. I wrote a lot of them in that house. Those couple of years were very lucrative in that sense.?
Where the Sun Meets the Blue.....
Tom and Sera knew a good thing when they saw it. When any opportunities arose regarding live shows, they jumped on them and asked Julie to join them and when Julie's schedule permitted, she did. The longer they lived in the cottage, the closer they became with Julie until, one day, Tom approached her about recording a song for them.
?Sera and I had decided to record one song before we moved back to Ithaca. Just one. We figured, Julie has this recording studio so, yeah, let's just do it. So we did. But it just kept rolling and became more.
?Granted, I was a bit intimidated at first, what with her track record and the people she had worked with. She was a woman in the studio when there weren't women in the studios and she had this platinum record for Double Fantasy. That is impressive to me. And she has this photo she took of Joni Mitchell painting her album cover hanging on the wall. She had worked with so many great people.?
After some basic tracks had been recorded, Tom began to think of an extra voice on a couple of the tracks.
?Julie sings regularly in a vocal group known as Prana,? Tom said. ?There is another lady who sings in that group who is probably more well-known regionally than most named Bar Scott, so I asked Julie to approach her. She wasn't available, but Julie mentioned another lady from Prana, . When we got Kirsti in the studio, all I could think was, wow, her voice is fantastic!
?Now, this is Julie's recording studio, so if Julie and Kirsti are singing, guess who's working the boards? I had never worked the boards before. What an experience! So, when you hear Julie and Kirsti singing on Where the Sun Meets the Blue, that means I'm running the ship. I mean, Julie and Kirsti tried everything! There were so many ideas and so many options, and we recorded them on a single track.
?At times, if Julie had had her way, where there are two voices, there would be four. But I prefer to not do more than we can perform live and I don't really like to double-track. I prefer to keep the mixes simpler. The other side of that is that Julie's and Kirsti's voices are so beautiful that I want to hear each one separate. I don't need to hear two Julie's and two Kirsti's.
?So the basic difference between Where the Sun Meets the Blue and our earlier album Souls of Birds is that one was recorded in Ithaca with Ithaca musicians and the other was recorded in Woodstock with Woodstock musicians. Then again,? he hesitated, ?it was pretty special having Julie as recording engineer--- that made a huge difference. And having both Julie and Kirsti on vocals had a huge impact. But any project is only as good as the songs and I think I had written better songs for Where the Sun Meets the Blue (note: Read my original review of the album here). Or at least, I like to think so, because that would mean I'm getting better at it.? Then he laughed.
THE PROCESS.....
Tom can laugh all he wants. He is getting better at it, or maybe just more focused. Or maybe he is just now realizing what is important to him. Or maybe it's just become more personal.
The first time I heard the song Keep Crossing That Line, I had to listen again immediately. There was just too much to process, I guess, and I listened again and again until it started to make sense. This was Baltimore, 1963 and Baltimore, 1968 and I knew little about it, so when Tom and I talked, I had to ask.
?The idea for that song had been floating around for a long time,? Tom admitted. ?Somewhere around 2005, I got my hands on a book about The Baltimore Orioles titled Black and Blue which I found really interesting. It was not just about the team but about everything else that was going on in society, not the least of which were the race problems in 1960's Baltimore. One thing I learned was that in 1963, Dr. Martin Luther King had made a speech in Baltimore and claimed that Baltimore was the most segregated city in the country. Those were pretty strong words when you consider all the more publicized cities in the Deep South. I was 52 at the time I read the book and ten when he made that speech, but until I read the book I had no idea that he was in town or had made that speech.
?Anyway, in 1968, I ruptured my spleen playing baseball and had to go to the hospital. I was in the general ward when Dr. King was shot and there were riots and all of these people started coming in all shot up. They ended up sending me home because they needed my bed.
?It was shocking. I was seeing things I'd never seen before. People were being brought in I normally did not see. There were all these different kinds of people in the beds next to me and they were always rotating and changing and the nurses were crying and I remember someone screaming 'They shot the wrong guy!'. It had a definite impact on me, so there is a little part of me in that song along with a little part which came out of reading the book. I still think about it.?
Maybe not all songs on the album are as intense as Keep Crossing That Line, but they are as personal and as deep. Like the title track, Where the Sun Meets the Blue:
Tom and Sera have a friend who lives in Newport, Rhode Island and who had a nineteen-year-old daughter, Molly, who had always dreamed of sailing around the world. The daughter met someone special and as luck would have it, his father was an accomplished sailor who owned a sailboat. At some point, her dream became theirs and arrangements were made. They put out to sea.
?The day we moved back to Ithaca from Woodstock,? Tom said, ?it was pouring down rain. A hurricane had just hit off the coast of New England. Molly had been emailing impressions about the sun and dolphins swimming next to the boat and all of the things that were happening. By the time we arrived in Ithaca, we found that the Coast Guard was looking for the boat and couldn't find it. Somewhat stunned, I sat down and this really strange guitar tuning came to me: E, A, C-sharp; E, A, C-sharp. It didn't make sense musically, but it was like the chords were being sent to. And then these words started coming...?
Thus was born Where the Sun Meets the Blue. A vision of a young girl and her companions on a dream quest. A tribute to a daughter lost at sea. A song which virtually wrote itself.
Not unlike The Green Church. In 1977, Tom lived in the hills outside of Ithaca for a short time. The outdoors experience jumpstarted his love affair with the environment and gave him an understanding of people, past and present, he had theretofore not had.
?Growing up in NE Baltimore, we were all in a way raised to be racist. It wasn't conscious, it was just the way it was. What saved me was busing. When I went to junior high school, kids were bused from downtown so that the school was racially mixed. I could see that everybody was okay. I honestly don't know which direction I would have taken had I not seen that for myself, early on. The thing that blew my mind was that there were all of these neighborhoods and different groups of people who had a hard time getting along. They held grudges against one another for what appeared to be the vaguest of reasons. When I moved to Ithaca, here were all these people living in communes way out in the country. I mean, some of the locals had never really seen a person of color up close. I had to ask myself why all of these people up in the hills were talking racial trash. They had no reason to think the way they did outside of what they had read or what they saw on TV. It didn't make sense to me. In Baltimore, at least there were real instances which might have given someone a reason to think that way, but just outside of Ithaca.....?
Call it Nature 101. For the first time, Tom had time to separate the reality from the ideal, the individual from society, the country from the city. He came out of it with an appreciation of the problems facing society as a whole. At 40 years old, he would decide to study environmental engineering.
He carried the experience with him and still does. It felt like a church out there in the woods, he said once. Over the years, that feeling evolved into Green Church.
The Magic of the Studio.....
Green Church has a jazz/blues feel with a touch of beatnik attitude and poetry helped along by rhythmic finger snaps. Surely it did not start out that way and, in fact, more than likely warped way beyond its original form. Part of the transformation can be chalked up to time, but a large part has to be attributed to the dynamics of recording. Preparation work alone can change a song dramatically and when you are faced with absolute decisions, a lot depends upon how the sessions go.
The original sessions for the album which would eventually be released as Paper Kisses came about because of an impending tour. Tom and Sera had planned a trip to The Netherlands and Where the Sun Meets the Blue contained, to Tom, old material. He wanted physical product which would show where they were at the time of the tour--- something up-to-date. So he scheduled time at Coldbrook with Julie and aligned the musicians he needed. And the next album was under way.
Three songs came out of those early sessions: Green Church, Crooked Moon, and Baltimore. An ?advance tracks? EP was pressed in very small quantities and passed out to radio and concert promoters. The Green Church EP served its purpose, but it was precursor to another huge musical leap for Tom and Sera--- the aforementioned Paper Kisses (again, my original review can be found here).
?Paper Kisses isn't a whole new recording,? Tom explained when we first talked about it. ?Sera laid down some new tracks (on the original three songs) and there were a couple of other things I felt needed changing. We remixed some vocal parts, like on Crooked Moon, the song I did with Jennie Lowe Stearns. I was not really happy with the original mix. There were two voices in harmony throughout and I made the suggestion that we do one voice, then two, then one, and then two again. It was just an option. We recorded it a number of ways and then mixed it and decided at that time the way we wanted to go. And like on Green Church. Originally, I sang all the verses and Julie and Kirsti sang their parts, but I thought that they should each sing a verse. I liked it better that way.
?So the three EP songs sound different although they are essentially from the original sessions. Besides the vocal parts, Sera added a cello solo to Green Church to complement the tuba solo and, of course, all three songs were remixed and remastered for the album.?
Beyond the music, there is a personal side to the recordings you might miss. Both part of and beyond Tom's writing and recording process.
?I pretty much write a song by myself,? Tom explained, ?and then bring it to Sera. When I show it to her, sometimes the song will change and sometimes it won't, but Sera has great suggestions when she has them and adds a lot to the process. By the time we get to the studio, the songs are pretty much finished, but they have to pass the Last test. Julie can have some amazing suggestions. A word here and different phrasing there can make a big difference. I listen to her. She has a lot of experience in the studio. Other places I have recorded, they just record you. They know how to set mikes and get the sound and all, but they didn't have suggestions like Julie does. She is a vital part of the production and the arranging.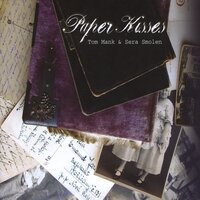 ?And for Paper Kisses, I was ready. I went in and launched right into it. I said, hey Julie, I have three new songs. Boom, boom, boom. And she listened. She had her finger on the pulse of what was going on. She changed a lyric here and there and had a few suggestions regarding phrasing and chord changes. And when it changed, it had a huge impact.
?Julie almost gets in a trance sometimes. She'll turn her head sideways and think while she listens. She is so knowledgeable about notes and music and can hear it all in her head. When she's finished thinking, she'll just say ?Let's try this? or something like that and we're on our way.
?As for Kirsti, it's energy feeding energy. When I have songs, Kirsti will say 'You have songs for me to sing on? Yay!' And when I hear her sing on them, I'm saying 'Wow! It is so much better!?
Better, indeed. You can feel the enthusiasm Tom and Sera have for Julie and Kirsti and each of the musicians who have helped and do help them out. Tom and Sera have many friends who obviously enjoy being involved in their project, whether live or in the studio. But the friendships with Julie and Kirsti are something special, at least at this point in time.
?We have a dear friendship with Julie,? Sera said during our conversations. I have come to appreciate her more as I've gotten to know her. Not only do we trust her as an engineer, we have learned to trust her as musician, colleague and singer. I said to her just the other night that her presence is obvious in every inch of the recording we do with her.
?Julie and Kirsti come to our songs ready to offer ideas for vocal harmonies. They have sung together for years and know each other. They are professionals. This is the way they have affected our songs.?
There is a siren-like quality they brought to Paper Kisses. Quite an other-worldly quality, in effect. When you put it together with Sera's downright intriguing cello and Tom's bluesy voice and a catalog of outstanding songs, you have an album which will be much sought after when the next round of collector-mania hits in a couple of decades. I can see in my mind's eye the prospector who uncovers this album and discovers the amazing music captured in time.
They are good people, are Tom Mank and Sera Jane Smolen. A lot of that comes from being grounded--- from having their priorities straight. I think Sera stated it best when she said ?I really consider myself utterly ordinary. But I believe in the power of art and believe that anyone can learn art and that art can transform your life. Art changes the nature of life if you really take it in. It's like almonds. An almond is a nut, but if you put it in water overnight, that almond is no longer a nut. It is a seed. All of the chemistry in that almond changes by simply soaking it in water. Art does that to life. It changes everything.?
DISCOGRAPHY:
Blowin' Me Away (cassette, 1991, sans Sera)
Some Big Town (cassette, 1993)
Almost Time (2000)
Conversations In Waves (2001)
Souls of Birds (2004)
Where the Sun Meets the Blue (2007)
Paper Kisses (2010)
In addition, they released a three-song EP as a demo, Green Church (2009)
Sera Jane Smolen:
Improvising Chamber Music Sampler, Music for People (1997, with David Darling)
The Way of Creation (Betsy Bevan, 1999)
Harmonious Soul Scenes (Karlton Hester & Hesterian Musicism, 2000)
Supporting the Indies Since 1969